Eating Healthy On A Budget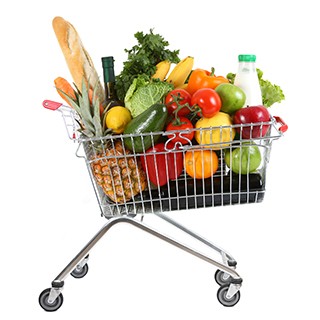 Most of us want to eat healthy, delicious foods, and save money while doing so. This list of tips will get you started on your grocery savings journey.
1.   Create a Shopping List and Plan Ahead: Create a weekly family menu; let your kids help decide what the family will eat for the week. Start with what you already have in your refrigerator and cabinets; figure out what extra ingredients you will need for the meals that you plan to cook during the week.
2.   Use Coupons or Buy Store Brand/Generic:  Electronic coupons are available at most grocery chains, while the paper coupons are available in the paper that the store usually has at the front entrance.  Make sure to use your shopping list before choosing your coupons so that you are not buying items "because it is on sale".
3.   Check Out the Must Sale Items: Many stores will have "must sale" products.  These items are usually much cheaper than usual, but have damaged packaging, or short expiration dates.  If you buy these products make sure to use them quickly. If you are stocking your pantry with sale items like pasta, rice, beans, oats, etc., make sure that you create a meal plan to use those items before their expiration date. Also, ask the store manager about their sale cycles, so that you know the best days to go to the grocery store to catch the best sales on the items that you need.
4.   Read the Shelf Tag: Packaged foods come in different sizes; read the shelf tag to check the unit price. You might find that the bigger container costs less per unit than the smaller container.
It is important to know how much of the product you will use, for example:  A large boxes of cereal and crackers costs less per unit than smaller sized boxes. Your family may eat the cereal quickly which makes the bigger container the best choice, but the crackers may move slower and go out of date before all the crackers are eaten. In this example the smaller container may be a better deal to prevent paying for food that won't be eaten before the food spoils and results in food being wasted.    
5.   Rethink the Specialty Foods: Many of us have hitched onto the special food bandwagon by selecting gluten-free food even though they tend to cost more. It is important to know that less than 5 % of the population has a medical reason to avoid gluten. Gluten is made from the proteins in wheat. Foods without gluten do not benefit people who have no medical reason to avoid gluten. Check with a dietitian or your healthcare provider to determine if you have special diet needs.  
6.   Fresh Versus Frozen:  Fresh fruits and vegetables are delicious and healthy but may not be affordable year-round. Canned and frozen fruits and vegetables can cost less, and last longer but still provide the same vitamins and minerals that you get from fresh produce. When buying canned produce choose those that are packed in water or natural juice.  Avoid those packed in brine or syrup.
When selecting produce, buy what is in season because it will cost less and taste fresher. For example, watermelon is a cheaper and better quality in July, while sweet potatoes are a better buy in November. The price and flavor of produce is driven by the area in which it is grown. Fruits and vegetables that are local (in Texas or the southwestern US) are usually less expensive, and have not travelled as far as those from South America.  
7.    Meatless Mondays: Instead of choosing animal protein, try plant-based proteins at least once a week. We have mentioned "Meatless Mondays" as a great way to expose your family to more plant-based proteins, and save some money in your food budget. See this month's recipes for examples of plant-based protein recipes made from canned beans, lentils, chia seeds, quinoa, and nuts.
8.   Cook Once Eat Twice: If you can find bargains on items that you like, buy them and cook double portions. Repurpose the left overs for multiple meals as demonstrated in the Fruit and Yogurt Parfait recipe listed below that is made from the Hybrid Fruit Salad..
9.   Tradeoffs: Grocery stores recognize that cooking a healthy meal from scratch can be hard for busy families. You may have had a little more time for cooking since the pandemic, but if not, take advantage of pre-cut and bagged veggies, fruit plates, and prepared meats at the store instead of choosing fast foods. You pay a little more to reduce your time in the kitchen, but you have a healthier meal on the table.  These prepared meals tend to cost less than fast food meals. Plus, if you are saving money on other items on your grocery list, paying a little extra for healthy and convenient foods that your family will enjoy will not hurt your budget.
10.    Family Event:  Keep your children engaged and excited about meal time by allowing them to help plan the menu, find coupons, shop for the produce, and prepare the meal.  Kids tend to be excited to eat healthy foods that they helped prepare.