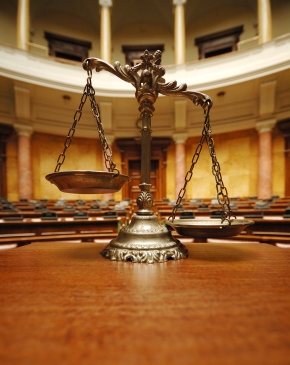 Courtroom Attire and Demeanor:
Counsel shall be familiar with and follow the Tarrant County Local Rules and the Texas Lawyers Creed.  Links to both are found below.
Litigants and spectators shall wear appropriate attire and conduct themselves in a dignified and courteous manner at all times.  Coats and ties are required for male counsel.
Heavy scents and perfumes should be avoided.
The following attire is not appropriate:  flip flops, shorts, sweat suits and athletic attire.
Courtroom Use and Visits:
Photography and recordings of the Courtroom, Court offices and Court proceedings are prohibited without permission.
Counsel are welcome to visit the courtroom and inspect the audio-visual equipment to prepare for trial.  Contact the Court bailiff or Court Coordinator Tracey Wood for an appropriate time.
Texas courts are open to the public.  Individual, school and group visits are welcome at appropriate times.  Courthouse tours are typically conducted monthly, and self tour guides are for sale in the Law Library, Room 420.  Contact the Court bailiff or Court Coordinator Tracey Wood for an appropriate time to visit.
Contact Information
Be sure the clerk has your correct address and phone number.

Faxes and Emails
DO NOT FAX OR EMAIL PLEADINGS, MOTIONS, LETTERS OR BRIEFS TO THE COURT WITHOUT PERMISSION.

Pro Se Litigants
Pro Se litigants are held to the same standards of knowledge and decorum as licensed attorneys. You must be ready for trial when your case is called.

Tarrant County Local Court Rules

Occupational Driver's License
Applications for an occupational driver's license are typically heard by County Court at Law Nos. 2 and 3. If Court 1 is hearing such matter, counsel must coordinate with the bailiff or coordinator of the court of record for compliance with their requirements.

Cameras and recordings are not allowed in the Courtroom
Electronic Devices – While in the courtroom, all cellular telephones, pagers and other electronic devices shall be turned off. This policy does not apply to attorney(s) at counsel tables while representing litigants. Attorneys shall have all electronic devices turned to silent mode during hearings. All phones shall be turned off if their presence becomes distracting.
Recordings and Photographs - Taking photographs, visual recordings, or recording audio in the courtroom is forbidden without express permission from the Judge.
Temporary Restraining Order (TRO)
The Court will hear TROs as the Judge is available.  If a judge is not immediately available, the parties must take the application to the Court Coordinator for direction.  Judge Pierson will consider TROs from other courts only with permission from that court's presiding judge.  All County Court judges require compliance with the Local Rules on ex parte Applications.

Substitute Service
To approve substituted service on an individual, the Court requires (1) some evidence that the party currently resides at the address where service is sought; and (2) at least three attempts at that address, one of which must be before 7:30 a.m. or after 6:30 p.m..
Texas Rules do not allow substituted service on an entity. If you have difficulty serving a proper officer or representative, please refer to the chart at Chapter 2, Part H, §6 of O'Connor's Texas Rules Civil Trials. Please note, for a Texas entity, case law requires several attempts to serve the registered agent before serving a defendant through the Secretary of State. If service is through the Secretary of State, you should file a copy of the Secretary's "Whitney Certificate."

Default Judgments
Motions for default judgments are typically handled by submission. A Motion for Default Judgment should be filed with all of the requisite information required by law. Testimony regarding damages will be accepted by the Court in affidavit form, however, in some circumstances, the Court may require a hearing on damages. In such event, the Court will notify the parties a hearing is necessary.
Dismissal Docket
The Court has several Dismissal Dockets as set out below.  Generally, IF YOU RECEIVE A NOTICE OF INTENT TO DISMISS FOR WANT OF PROSECUTION, YOU NEED TO: (1) READ THE NOTICE, AND (2) TAKE THE ACTION REQUIRED ON THE NOTICE WITHIN THE TIME ALLOTED.
Unless all defendants have been served and citation returned to the Clerk within 180 days after the suit is filed, the Court will send a notice of intent to dismiss a case for want of prosecution. 
If a case is more than 10 months old, the Court will also send a notice of intent to dismiss a case for want of prosecution if either: (1) a Defendant has been served but has failed to answer, or (2) all Defendants have been served, but the case is not set for trial. 

Do not wait until the last minute!  e filing is not perfect.  If you need additional time, please file your response as soon as possible and advise the Court of your issues.

Accessibility Notice: Due to the complexity of the source of this document, it was created from scanned images. If you require assistance in accessing the information, please call 817-884-1457.