Due to minimum staffing requirements, the Aquatic Center currently can NO longer accept Walk-In members,
Walk-In water exercise, or hold Open Swim.
All reservations should be sent to: RCAquaticCenter@tarrantcountytx.gov
Reservation availability can be found by visiting our weekly calendar: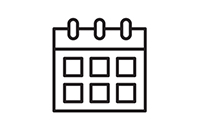 Aquatic Center Mission
To provide a safe aquatic environment for community members to swim, rehabilitate and connect with others through educational programs designed to instill water safety practices and enhance the quality of life.
Vision
To connect members of our community and enable them to improve their well-being through aquatic activity.

About Our Facility
The Aquatic Center at the Resource Connection is a shallow water 6 lane, 25-yard lap pool along with two unique spas perfect for the members of our community. The water temperature at the Aquatic Center is maintained year round and is perfect for those with arthritis or joint mobility issues, as well as other medical diagnoses. Both our pool and our 3-foot therapeutic spa are handicap accessible per current ADA regulations. The Aquatic Center is open to the community by way of Individual or Family Memberships, based upon your needs. Water Exercise classes, though currently currently unavailable, are normally included in our membership fees. All exercise equipment in the facility, including dumbbells, noodles, and treadmills, is available for member use. Aquatic Therapists and clients are also welcome here at our facility. The Aquatic Center is available for contract, such as Special Olympics or Special Education programming, at an hourly rate so that we can better serve our community. We also partner with various Learn to Swim and Drowning Prevention organizations to bring our community safe and effective Learn to Swim opportunities.

Reservation Hours of Operation* (As of May 15, 2023)
Monday

 
 11 a.m. - 1 p.m., 3p.m. - 5p.m.
 

Tuesday

 
 11 a.m. - 1 p.m., 3p.m. - 5p.m.
 
Wednesday
 
 12 p.m. - 3 p.m., 5p.m - 7p.m.
 

Thursday

 
 11 a.m. - 1 p.m., 3p.m. - 5p.m.
 

Friday

 
CLOSED
 

Saturday  

 
CLOSED
 

Saturday

 
 
CLOSED
 
*Open Swim or Walk-In's are NO LONGER AVAILABLE for the facility.  
*Subject to change based upon active patron reservations, facility operations and facility staff.
*Reservations are REQUIRED in order to use the Aquatic Center. All Reservation Requests must be submitted to RCAquaticCenter@tarrantcountytx.gov
*Reservations are limited to one (1) hour, and are first come, first serve. The Aquatic Center Reservation Calendar is updated in real time to reflect facility reservations and availability, and can be found here: Aquatic Calendar  

Membership Information
Members are not required to live or work in Tarrant County to become an Aquatic Center member.  New members must submit complete Membership Paperwork, in person at the facility, provide a state issued ID or utility bill for address verification, and make a pre-payment before reservation requests can be made.

Our facility does not operate on annual contracts or EFT's: it is attendance based. Members are only billed for the months they attend and badge into the facility. ***If you attend one time in a calendar month, you are billed for the entire month. *** Any members who become more than two months past due on their Aquatic Center Account will be barred entry into the facility until their account is in good standing.

All Tarrant County Employees and Resource Connection Tenant Agency Employees may use the Aquatic Center for lap swimming at no charge with valid Aquatic Center Paperwork, Employee Badge and a Reservation. However, all Employees must have a membership to participate in any classes offered at the facility.  In conjunction, all family members of an employee are also required to have a membership in order to use the facility.
The following membership types are available at the following rates:
Individual:      $30/month
Family 4:           $45/month * (two to four family members in the same household, MUST PROVIDE ADDRESS VERIFICATION)
Family 5+:      $60/month * (five or more family members in the same household, MUST PROVIDE ADDRESS VERIFICATION)
*New & Returning Members must make an initial payment upon the time of sign-up to in order to make reservations.*
* ALL participants in a family membership must prove RESIDENCY to the same household before they may use the facility. A Valid State I.D. is required for those over the age of eighten (18).*
* ALL children under the age of 14 must be within arms reach of a parent or legal guardian at all times within the facility and the water. *
* ALL children between the age of 14 and 18, and all legal wards must have a parent or legal guardian inside the facility at all times.*

AQUATIC CENTER MEMBERSHIP FORMS (Membership documents CANNOT be accepted via email at this time.)
Each Membership Packet must include the following forms:
    One (1) Membership Billing Page
    One (1) Aquatic Center Participant Waiver for EACH family member regardless of age.
    One (1) Aquatic Center Rules Set for EACH family member over the age of eighteen (18).
Online Membership Pre-Payments can be made here: TCRCPayments.com





Contact Us!
Aquatic Contact: Kayla E. Rogers  
Email: RCAquaticCenter@tarrantcountytx.gov
Aquatic Center Phone: 817-531-7667
Aquatic Center Address:
2200 Circle Drive Fort Worth, TX. 76119