Justice of the Peace Courts
       

                   
 

 

 

Precinct 1
JUSTICE OF THE PEACE


Ralph Swearingin Jr.

1895 Courthouse
100 W Weatherford Street
Room 450
Fort Worth, Texas 76196-0242

817-884-1395

 

 

 

Precinct 2
JUSTICE OF THE PEACE

Mary Tom Curnutt

Southeast Subcourthouse
700 East Abram Street, Suite 200
Arlington, Texas 76010



817-548-3925

 

 

 

 

Precinct 3
JUSTICE OF THE PEACE

William P. "Bill" Brandt

Northeast Courthouse
645 Grapevine Highway
Suite 220
Hurst, Texas 76054

817-581-3625

Southlake Town Hall
1400 Main Street, Suite 220
Southlake, Texas 76092

682-732-6589
 

 

 

Precinct 4
JUSTICE OF THE PEACE

Christopher Gregory

Northwest Subcourthouse
6713 Telephone Road, Suite 201
Lake Worth, Texas 76135

817-238-4425

 

Precinct 5
JUSTICE OF THE PEACE

Sergio L. De Leon

Fort Worth Police 
Administration Building
350 W. Belknap, Room 112-C
Fort Worth, Texas 76196-0247

817-884-1438

 

 

Precinct 6
JUSTICE OF THE PEACE

Jason Charbonnet

Southwest Subcourthouse
6551 Granbury Road
Fort Worth, Texas 76133

817-370-4525

 

 

Precinct 7
JUSTICE OF THE PEACE

Kenneth Sanders

Mansfield Subcourthouse
1100 E. Broad Street, Suite 202
Mansfield, Texas 76063

817-473-5101

 

 

Precinct 8
JUSTICE OF THE PEACE

Lisa R. Woodard

Poly Subcourthouse
3500 Miller Avenue
Fort Worth, Texas 76119

817-531-5625

 

EFFECTIVE September 1, 2017
Effective September 1, 2017, a $5 fee will be added to any civil action or proceeding requiring a filing fee; per Senate Bill 42 (Section 51.971), the Judicial and Court Personnel Training Fee.
The Court's eFile provider is currently working to create a category to accept the $5 fee by the September 1 date. Until such category is created, any case filed without the $5 fee added will be rejected. Please contact the court for further information.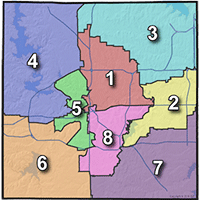 The Justice Court is commonly known as the "People's Court".
There are eight Justice Courts in Tarrant County. The Justice Court is a trial court for both civil cases (jurisdictional limit is $20,000), and many different types of misdemeanor criminal cases. Your Justice Court Judge also serves as an Administrative Hearing Judge. Each Judge is elected to a four-year term by the voters in that precinct.
Finally, the most common question: Can I still get married by the Justice of the Peace? Yes. Please contact the individual court for details and scheduling.

NOTE: Due to the file size of the precincts map (6.3MB), it may require a longer download time.