Justice of the Peace Courts
Justice of the Peace Court 5

Judge De Leon Re-sets Eviction and Criminal Misdemeanor Plea Dockets until after the Easter Holiday.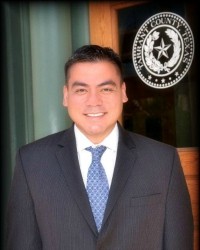 Judge De Leon's vision of serving both the court and the community has become a working reality. Soon after taking office he formed a partnership with what was then called the TWU Law School and hired a legal intern; a first for Justice of the Peace Courts in Tarrant County. Additionally, he held the first-ever Precinct 5 Justice of the Peace and Constable Town Hall Meeting to address a new Judicial Complex to better serve the growing needs of the Precinct 5 community. Moreover, Judge De Leon forged a partnership with FWISD Schools and initiated the "Honorary Jurors Program" which invites students from area schools to serve as honorary jurors and observe court proceedings. The program has been a tremendous success and has been featured in the Fort Worth Star Telegram and the Texas Association of Counties, County Magazine.
For your convenience we now offer two ways to eFile:
1. Use eFile Texas Self-help to file new cases for Small Claim, Eviction, Debt Claim, and Repair and Remedy. You will use a step-by-step guide to answer a series of questions to help prepare and file your court forms online.
2. Use eFile Texas to file new cases and add additional documents to existing Small Claim, Eviction, Debt Claim, along with other types of cases. This service does not provide a step-by-step guide as eFile Texas Self-help. Documents have to be scanned into the program before filing.
Appeals will not be accepted through eFile at this time.

Contact
Office: 817-884-1438
Fax: 817-884-3323
350 West Belknap, Suite 112-C
Fort Worth, Texas 76196-0247
Monday - Friday, 8 a.m. - 4 p.m.
All filings and payments must be received by 4 p.m.