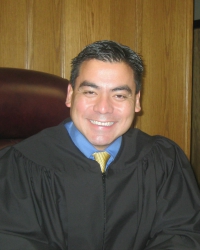 Judge Sergio L. De Leon, is a native of Fort Worth, but was raised in Arkansas, where he graduated from East End High School in the rural town of Bigelow.  He returned to Texas in 1992 to coordinate then Governor Bill Clinton's presidential campaign in Tarrant County.  He has received a Bachelor's degree in Political Science from Texas Wesleyan University and is a Graduate of the Criminal Justice Training Center at Tarrant County College's Northwest Campus.  He is currently enrolled in the University of Texas at Arlington Cohort Criminal Justice Master's Program.
In November 2012, Sergio De Leon was elected Justice of the Peace in Precinct 5. Justice Courts have purview over Justice and Small Claims law-suits with a jurisdictional limit of $10,000. Additionally, the JP Courts hear Eviction Cases and Class C Misdemeanor Criminal Cases filed by local law enforcement agencies.
Prior to becoming Judge, Sergio De Leon served Precinct 5 as Constable for almost 12 years and is credited with transforming the outdated office into a modern day law enforcement agency. As Constable, Sergio De Leon worked with neighborhoods to tackle illegal dumping and schools to address the growing truancy problem in the inner-city.
Judge De Leon is proud to serve on the Boards of the National Association of Latin Elected and Appointed Officials, Fort Worth Police and Fire Memorial and Tarrant County Back-to-School Round Up. Additionally, he serves on the Justice of the Peace and Constable's Association's Education Committee.  
Judge De Leon is married to Frances Granados and they have four children: Alexis, Jake, Alena and Leila. They are members of St. Andrews Catholic Church in Fort Worth.