Justice of the Peace Courts
Justice of the Peace Court 8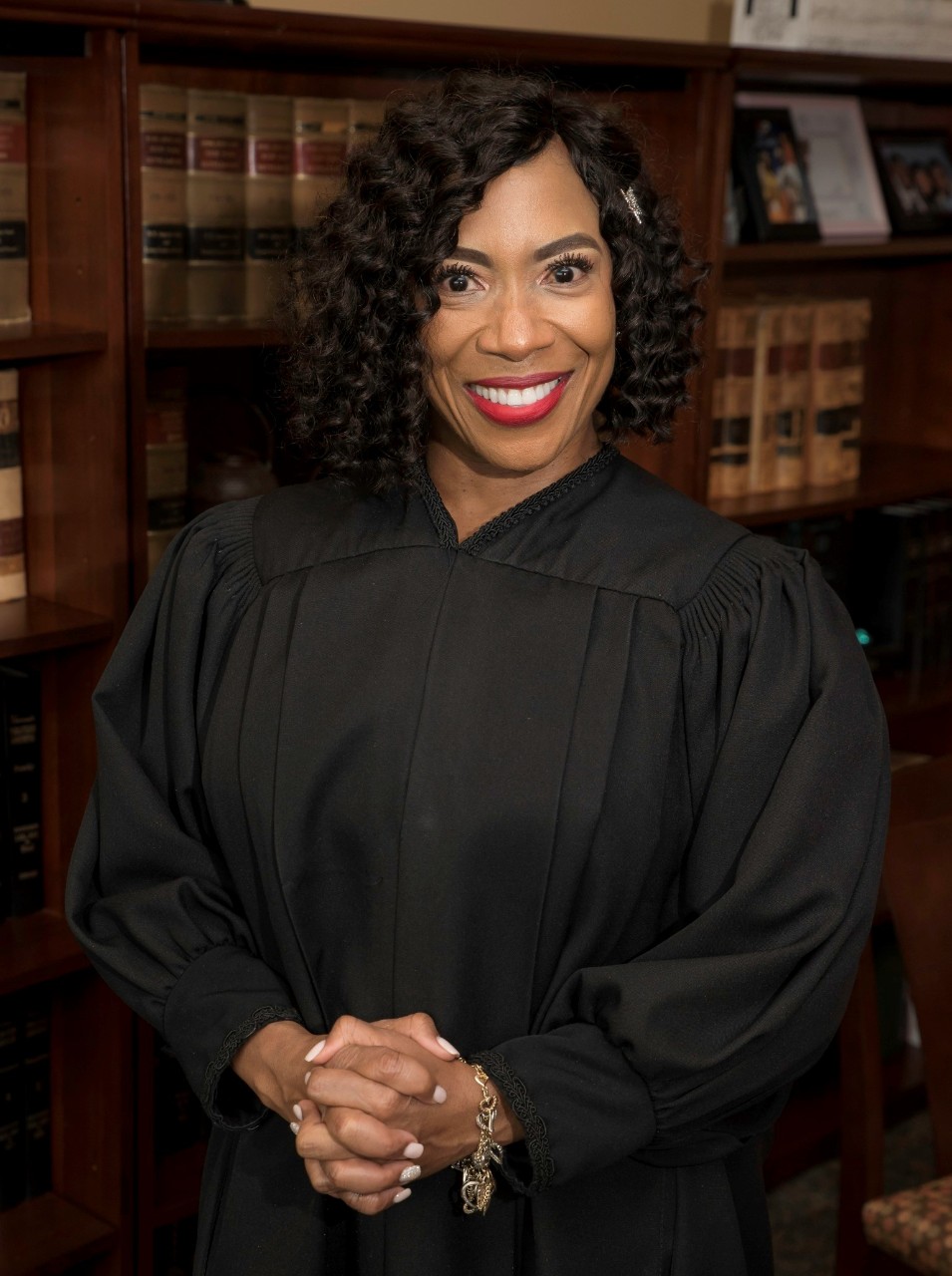 The citizens of Tarrant County Precinct 8 elected me to serve as their Justice of the Peace in 2010. On January 1, 2011, I was sworn in as the first African American female JP in Tarrant County. I took an oath that I would to the best of my ability preserve, protect and defend the Constitution and laws of the United States and of this state, so help me God. That is an oath that I took to heart.
Customer service is very important to me. If you visit my office and did not receive excellent service by my staff, please do not hesitate to contact my Court Manager, Mrs. Jackie Sargent at 817-531-5626.
 Dr. Martin Luther King wrote: "Injustice anywhere is a threat to justice everywhere."  Justice will always be served in my courtroom. I serve with honor, dignity, compassion and respect. Every citizen who comes into my courtroom has a voice.
Every morning as I take the bench I ask God for three things: the wisdom of Solomon, the patience of Job, and the boldness of David.
I appreciate the opportunity to serve you!!!
Respectfully,
Judge Lisa R. Woodard
Effective August 03, 2021 through October 03, 2021 CDC is issuing a new order temporarily halting evictions in counties with heightened levels of community transmission in order to respond to recent, unexpected developments in the trajectory of the COVID-19 pandemic, including the rise of the Delta variant. It is intended to target specific areas of the country where cases are rapidly increasing, which likely would be exacerbated by mass evictions.
The Texas Supreme Court's 34th Emergency Order, which applied the Moratorium to Texas Courts, expired March 31, 2021.
The CDC federal eviction moratorium requires landlords not to evict tenants in certain situations. However, the moratorium does not affect the requirement for this court to follow Texas law regarding eviction suits. The landlord may choose to place this case on hold until the CDC moratorium is over, which is currently scheduled to be October 3, 2021. If they do not place the case on hold, and you believe the moratorium should require them to do so, you can consult an attorney to discuss your options. Legal assistance contact information can be found at www.tjctc.org/SRL.
The Supreme Court of Texas has issued its 39th Emergency Order, extending the Texas Eviction Diversion Program until October 1, 2021.
Important Updates
All Jury Trials scheduled up until May 8th have been cancelled. All other court settings will remain on the docket until further notice. Also, all weddings are restricted to the parties and no more than 4 guest are allowed. If you have any questions, please contact the court at 817-531-5625.
In the event of inclement weather, please call our office for delays or closings.
For your convenience we now offer two ways to eFile:

1. Use eFileTexas Self-help to file new cases for small claim and eviction cases. Simply answer a series of questions to help prepare and file your court forms online.

2. Use eFileTexas to file new cases and add additional documents to existing small claim, eviction, debt claim, along with other types of cases. This service does not provide a step-by-step guide as eFileTexas self-help. Documents have to be scanned into the program before filing.
Appeals will not be accepted through eFile at this time.

Contact
817-531-5625
Poly Subcourthouse
3500 Miller Avenue
Fort Worth, Texas 76119
Monday - Friday, 8 a.m. - 3:30 p.m.
COVID-19 hours: 8 a.m. - 3:30 p.m.
All filings and payments must be received by 2:45 p.m. each business day.

JP8Clerks@tarrantcounty.com
Important Notice: Effective September 1, 2017
Effective September 1, 2017, a $5 fee will be added to any civil action or proceeding requiring a filing fee; per Senate Bill 42 (Section 51.971), the Judicial and Court Personnel Training Fee.

The Court's eFile provider is currently working to create a category to accept the $5 fee by the September 1 date. Until such category is created, any case filed without the $5 fee added will be rejected. Please contact the court for further information.

Truancy
Effective September 1, 2015, the offense of Failure to Attend School is repealed along with the designation of truancy as Conduct Indicating a Need for Supervision. Following these changes, Chapter 65 of the Family Code is created, which identifies the procedures and rules for handling truant conduct as a civil procedure in a truancy court.
All offenses for Failure to Attent School prior to September 1, 2015, are to be expunged under section 45.0541 of the Code of Criminal Procedure. The court in which the individual was convicted or a complaint for a truancy offense was filed shall order the conviction, complaints, verdicts, sentences and other documents relating to the offense -- including any documents in the possession of a school district or law enforcement agency -- to be expunged from the individual's record.
Effective September 1, 2015, truancy court procedures and proceedings in cases involving allegations of truant conduct are provided in Chapter 65 of the Family Code. Other areas of law associated with truant conduct have seen amended or repealed: Code of Criminal Procedure, Family Code, Education Code, Government Code, Penal Code, and Texas Rules of Civil Procedure.