The Tarrant County Sheriff's Office Recruiting Unit is made up of three Deputies and a Sergeant. Their primary responsibilities include attending job fairs and speaking to students at both high schools and colleges about the careers and opportunities we offer at TCSO. Recruiters also set up at, but not limited to, various retail and gym locations throughout the area. They travel all over Texas and may go out of state. TCSO looks to hire and reach a wide variety of people, if you have a suggestion or location for us to set up at, please reach out to us at tcsohires@tarrantcountytx.gov.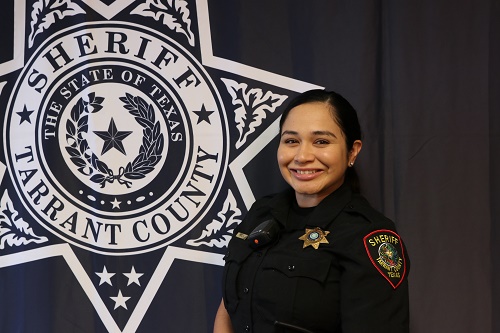 Deputy Sommer Garza
Howdy I'm Deputy Sommer Garza. I was raised in the great state of Texas! I grew up in the Dallas/Fort Worth area where I graduated and attended community college. I wasn't sure exactly what I wanted to do after school, but I knew I wanted to help where I could and give back to those that I could. I started my employment with the Tarrant County Sheriff's Office in early 2014 as a Detention Officer. After about a year in confinement, I wanted to continue to expand my career within the department and applied for Deputy Cadet. I was selected and attended the police academy that following year. I spent the next several years in Patrol, responding to calls and interacting with the Tarrant County community. I absolutely enjoyed every minute of it! In 2020 I transferred to Judicial where I worked in the 324th District Court assisting Judge Jerry Hennigan until his retirement. I can't sit still, obviously, so here I am in the Recruiting Unit looking for individuals who would like to join our Team! If you have any questions starting your new career with us, please feel free to reach out.
Office: 682-285-0988
Cell: 817-999-8643
Email: srgarza@tarrantcountytx.gov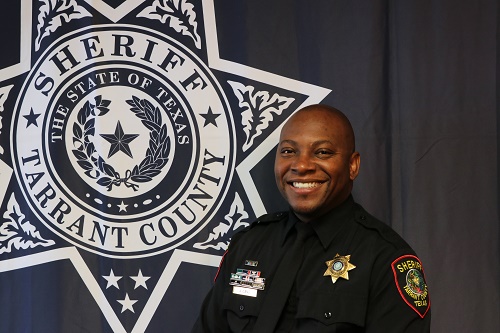 Deputy Jeff Lang
Deputy Lang is from Jefferson, Texas. After graduating high school, he joined the military and served 20 years in the Army and Army Reserves before retiring in 2018. Deputy Lang completed an Associates of Art from Tarrant County College and BAAS in Criminal Justice from Midwestern State University. He is also a graduate of the FBI LEEDA and ILEA School of Supervision. Before starting his career at the Tarrant County Sheriff's Office, Deputy Lang was employed with the Tarrant County College District Police Department as a Patrol Sergeant. He came to the TCSO after 13 years with TCCPD and has over 15 years dedicated to the profession. He is a Master Peace Officer and TCOLE Instructor with a wealth of training, knowledge, and experience in  the law enforcement profession.
Office: 682-285-1091 
Cell: 817-201-5441
Email: jelang@tarrantcountytx.gov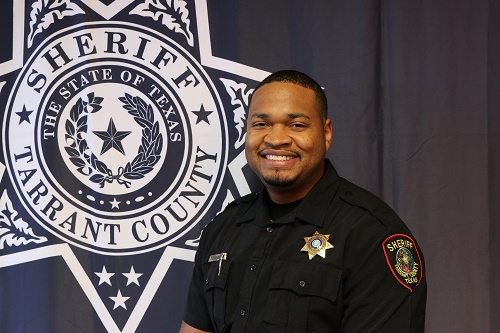 Deputy Anthony Henderson
Deputy Anthony Henderson was born and raised in Tarrant County Texas. He graduated from Eastern Hills High School and was recognized for completing four years of the Criminal Justice Special Interest Program. Deputy Henderson also graduated with Honors and the President Award. Deputy Henderson began his career with the Tarrant County Sheriff's Office October 29, 2012. He quickly learned and gained unparalleled experience in becoming a Detention Officer. While working as a Detention Officer, Deputy Henderson supervised inmates in confinement and ensured the safety and security of the inmates and facilities. He was recognized by his supervisors within 1 year for his hard work and dedication as a Detention Officer and was sent to training to become a Field Training Officer. 
In 2017 Deputy Henderson was selected to work as the Housing Administration Detention Officer where he was responsible for assisting operations of the SRT, K-9, Armory, Tools, Facility Key Control and Caustic Control. Deputy Henderson assisted in revising the Policy and Procedures for the Detention Bureau. Deputy Henderson became the FTO manager and oversaw the training program for the Detention Bureau. While working as the Housing Admin Officer he attended a full-time police academy at Weatherford College. Deputy Henderson graduated in 2018 as class Valedictorian. Shortly after graduating he was assigned to the Training Academy as an Instructor. After his time at the Training Academy, Deputy Henderson moved to Patrol where he worked for several years before being selected for Recruiting.                                                                                 

Office: 817-884-1287 
Cell: 682-352-6101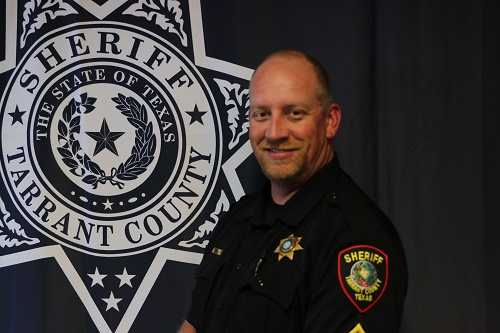 Sergeant Mike Opdahl
Hey there, I'm Sergeant Mike Opdahl with the Tarrant County Sheriff's Office Recruiting Unit. I started my career here in 2008 as a Detention Officer. I worked in Housing and Special Management before transferring to Booking. I worked a total of almost two years in the jail before heading to the Basic Peace Officer Academy. I graduated the BPOA from Tarrant County College in 2011 and was assigned to Patrol. I worked a total of almost 5 years in our Patrol Division, the last three years of that as a Field Training Officer. I then transferred to Internal Affairs as an Investigator and worked in that role for almost five years. Next, I transferred to Special Units in Patrol and worked fatality accidents. In addition to those, we also investigated and filed cases for DWI's, Hit and Runs, Environmental Offenses, and performed Commercial Motor Vehicle enforcement. After a few years of that, I applied for the Sergeant promotional process. I was promoted to Sergeant February of 2022 and was assigned to Recruiting in April of 2022. It is our mission and purpose to get out in the community and speak with people about the careers and benefits we offer. If you are interested in a career in law enforcement, I encourage you to reach out to us. We are here to help answer your questions and talk to you about the various positions we have to offer. Have a great day and be safe! 
Office: 817-321-4837
Cell: 682-328-4829             
Email: mdopdahl@tarrantcountytx.gov