When applying for a vaccination record, you have the option to pick it up in person, download and print to PDF,  have it mailed to you, or sent to you by an encrypted email.
To pick up in person, come to the Vaccine Distribution Center at Tarrant County Public Health's main campus building at 1101 S. Main St. in Fort Worth. The center can provide copies of immunization records, and replacement COVID-19 vaccination records on a walk-in basis. Please bring appropriate identification.

The Vaccine Distribution Center is open Monday - Friday from 8 - 11:45 a.m., and 1 - 4:45 p.m. and can be reached at 817-321-5450.


Regular immunization records cost $9.
COVID-19 Vaccination Records are free.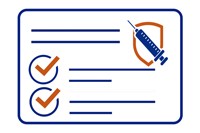 Requesting immunization records for download, by mail or encrypted email
Visit this public health portal.
Note: Anyone over the age of 18 must request their own immunization record.
An official immunization record is provided in Texas by ImmTrac2* system.
The ImmTrac2 system can also provide immunization records for areas in Texas other than Tarrant County.  Request an ImmTrac2 immunization record for areas outside Tarrant County. 

About ImmTrac2
ImmTrac2 is the Texas Immunization Registry service offered by the Texas Department of State Health Services. This secure registry safely consolidates and stores confidential immunization records from multiple sources onto one centralized system. This system supplies local health departments, such as Tarrant County Public Health, with data needed to generate shot records. Learn more about the benefits of enrolling in ImmTrac2.