Mosquito sample tests positive for West Nile Virus
FOR IMMEDIATE RELEASE
Richard Hill
Senior Public Information Officer
Tarrant County Public Health
817-321-5306 direct
817-401-5967 cell
rwhill2@tarrantcounty.com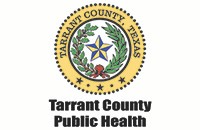 Mosquito sample tests positive for West Nile Virus
No human cases reported to county health officials
June 19, 2019 (Tarrant County, TX) --
Tarrant County Public Health (TCPH) has confirmed a West Nile Virus (WNV) positive mosquito sample, the first of the 2019 season, in the City of Colleyville. No human cases have been reported in 2019.

To date, 1,558 mosquito samples have been tested at TCPH's North Texas Regional Laboratory since seasonal surveillance began on April 1. A total of 63 mosquito pools were submitted to the laboratory on June 18.

TCPH reminds residents about the importance of taking personal protective measures to safeguard against the West Nile Virus.  Residents should routinely dump standing water on their property, use EPA-approved insect repellent, and dress in long sleeves and pants.

For more detailed information about West Nile Virus, including weekly reports, visit TCPH's Be Mosquito Free webpage.

TCPH has also compiled a list of ways You Can Protect Yourself.
News release date: June 19, 2019