The Food Policy Council was established by community leaders in social services, public health and educational organizations who found that -- despite ongoing efforts -- access to healthy affordable foods was still limited for many Tarrant County citizens.
The group was formed to improve collaboration and take a systems approach to addressing food issues in our community. Working together, we can make sure healthy, affordable, sustainable foods are accessible wherever people live, work, learn and play.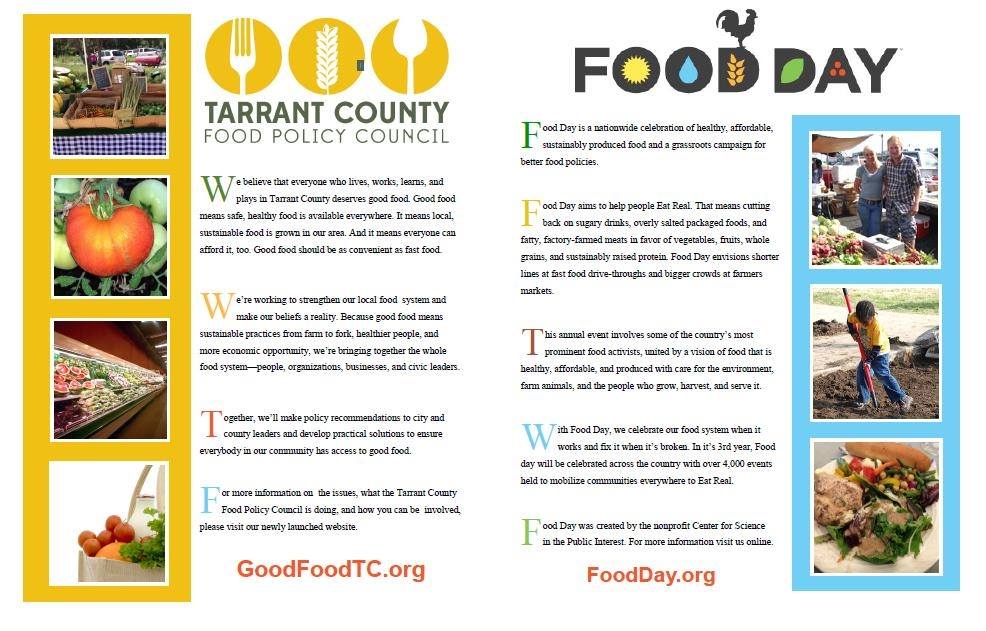 The mission of the Food Policy Council is to collaborate with representatives of all aspects of Tarrant County's food system to catalyze creative solutions for ensuring equitable access to sufficient, nutritious and culturally appropriate foods and to advocate for local food policies that support this goal. The vision is to provide equitable access to healthy food for individuals living in Tarrant County.
The goals of the Food Policy Council are:

Research the existing food system in Tarrant County, with emphasis on food desert areas.
Develop a strategic plan to address food access and hunger issues.
Cultivate partnerships between various private and public sectors of the food system to help find pragmatic solutions.
Provide information and advice about various policies and programs that support community-based food systems.
Advocate for local policies that strengthen community food security.
Food Policy Research Groups:
Neighborhood Initiatives
The Neighborhood Initiatives group works to identify and address gaps in food resources. Recently, the Neighborhood Initiatives or NI partnered with Tarrant County Public Health to conduct a survey to gather more information on zip code areas identified as food deserts. A food desert is a section of the community with little access to fresh fruit, vegetables and other healthful whole foods. Usually found in impoverished areas, this is largely due to a lack of grocery stores, farmers' markets and other healthy food providers.
Community Gardens & Urban Agriculture
The Community Gardens & Urban Agriculture group seeks to develop programs to support community, school and backyard gardens, as well as urban agriculture initiatives. Last spring, the group piloted a curriculum for a backyard and container gardening program with NICA. 
Research
The Research group works with local civic leaders at all levels to promote the adoption of sounds food policies recommended by the Food Policy Council.