Constable H.D. "Dale" Clark III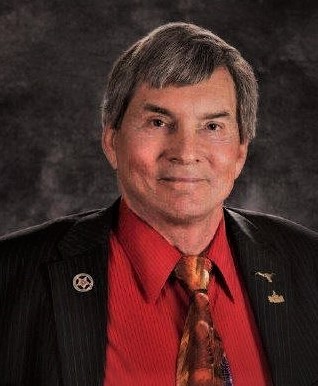 Constable Dale Clark, a longtime Haltom City resident along with his wife Peggy Sue, knows the important value of demonstrating commitment, fairness, experience and service to one's community.  This is evident in Dale's innumerable recognitions, accomplishments, commissions, certifications and awards on professional, civic and charitable levels throughout his career both in community service and in law enforcement.
Dale served his country in the military voluntarily joining the United States Air Force during the Vietnam era where, as a staff sergeant, he was a department supervisor in three areas. He received an honorable discharge and went on to serve in the United States Air Force Reserves. After leaving the United States Air Force Reserves, he pursued a career as a law enforcement officer -- first in Arlington, where he was one of the original founding fathers of the Arlington Police Association, and second at DFW International Airport Department of Public Safety, where he held three different accredited Texas certifications: 1) Texas Commissioned Law Enforcement Master Peace Officer, 2) Texas Commission Fire Protection Standards and Education Advanced Fire Fighter and 3) Texas Department of Health Advanced Emergency Medical Technician.
During his tenure with DFW International Airport he served as president of the Airport Public Safety Officers Association (APSOA) for more than 25 years, representing over 300 police, fire, and EMT personnel. As president of APSOA, he received numerous awards and recognitions, including: a Medal of Merit in Recognition for Innovative Ideas and Positive Results, a Certificate of Achievement for Outstanding and Distinguished Service to D/FW International Airport Board Employees, an engraved marble plaque for Exhibiting Positive Change and Community Service, APSOA Officer of the Year, International Benjamin Franklin Fire Service Award for Valor nominee, a Certificate of Excellence for Leadership and Dedication, an engraved plaque for Allegiance and Loyal Service, an engraved plaque for Commitment and Allegiance to Fellow Officers, and a pair of engraved .357 Smith and Wesson pistols for his years of service to the D/FW International Airport Department of Public Safety. 
Dale has been a member of good-standing with the Combined Law Enforcement Association of Texas (CLEAT) for more than 35 years, previously serving on the CLEAT Board of Directors. He has received numerous awards throughout his CLEAT association that include, the Grass Roots Political Action Award, the Gold Shield Award for his dedication to improving the living and working conditions of all Texas Police Officers, and an Award of Valor to add to his APSOA prestigious Medal of Valor in recognition of his individual acts of bravery and heroism taken in the life-threatening situation of the D/FW Airport Delta Flight 1141 plane crash August 31, 1988. He was proficient as a Police Field Training Officer and Fire Apparatus Field Training Officer for D/FW Department of Public Safety.
Dale is a person who believes efficient, professional, sensitive, compassionate and respectful execution of duties begins with a leader willing to emulate those qualities. He applied these qualities with a focus on his local community and civic arenas from 2004-2012 serving Haltom City's population of over 42,000, holding leadership positions as a two-term Mayor Pro Tem, four-term Councilmember and as a Precinct Chairman -- all of which allowed him the advantage of appreciating the value of how to successfully handle responsibilities on multi-levels and in multi-areas simultaneously, in addition to understanding the importance of an administrator being a fiscal conservative. Dale also served as a member of the Haltom City Planning and Zoning Committee, Haltom City Audit Committee, Haltom City Library Liaison, Haltom City Parks and Recreation Sponsor, and the Haltom City Crime Control and Prevention Board. As the Haltom City Mayor Pro Tem, Dale testified to the Texas House of Representatives and Texas Senate sub-committees, being instrumental in the passing of his personally authored Senate Bill 2085 affecting all Texas municipalities regarding proper use of language within bonds and therefore eliminating civil fines and the Class A misdemeanor for improper language usage. Dale was presented a Proclamation for Dedication and Service to all Haltom City Citizenry by the Haltom City Mayor, and a plaque for Outstanding Volunteer Service to the Senior Community by the Senior Center Director.  
Dale was sworn into the office of Tarrant County Constable, Precinct 1 on January 1, 2013. He serves the area covering Fort Worth Central Downtown Business District continuing north to Haslet.
Contact information:
Constable H. Dale Clark
817-884-2737
hclark@tarrantcounty.com

Dale is an ardent supporter of numerous community, charitable, and national organizations such as the following listed below:
Commissions, Committees, and Professional Affiliations:
Texas Police Chiefs Association
Tarrant County Criminal Court Grand Jury Commissioner
Texas Senate Drug Task Force Committee Advisory Panel Member
Commissioned Admiral in Texas Navy; Governor George Bush (2000)
Commissioned Admiral in Texas Navy; Governor for a day Jane Nelson  (2004)
Commissioned Member of the Nimitz Squadron; Texas Navy
Commissioned Honorary Colonel in the Militia, State of Alabama; Governor Don Siegelman, 2000
Commissioned Member of the Honorable Order of Kentucky Colonels; Governor Paul Patton, 2000
Texas Commissioned Law Enforcement Master Peace Officer
National Rifle Association life member of good-standing
Texas State Rifle Association life member of good-standing
Justice of the Peace and Constables Association life member of good-standing
Justice of the Peace and Constables Association Regional 6 Director
Combined Law Enforcement Association of Texas member of good-standing
Disabled Veterans life member of good-standing
Texas Wildlife Association life member of good-standing
Tarrant County Veterans Council Board Director
Other Affiliations and Charitable Organizations:
Texas Wildlife Association
Dallas International Safari Club
National Rifle Association
Fort Worth Symphony Orchestra
American Border Patrol
American Legion
American Diabetes
Shriners Hospital for Children
Hospitalized Veterans
Paralyzed Veterans
Blind Veterans Association
Commanders Club for the DAV
Kentucky Colonel Honorable Order's Good Works Program
Tranquility 2000 Foundation Endowment Membership
Feed the Children
Toys for Tots