New Agency Alert for Expunctions
When filing a Petition for Expunction, the quantity of agencies to be served has increased. Please make sure when filing that you account for re:SearchTX as one of your service agencies. This is a new agency that will need to be served a copy of the Petition and Order to expunge if granted.  We have provided a link to re:SearchTX and the mailing address that a filer will need to include in their Petition for Expunction.

If you have any questions regarding this additional agency, please contact the District Clerk Felony/Civil section at 817-884-1231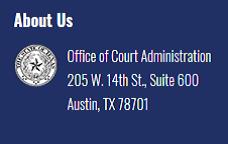 FAQ's
1. What types of cases are handled in the District Clerk Felony/Civil section?
The following civil cases related to criminal matters are handled in the Felony/Civil section.
Felony Bond Forfeitures
Felony and Misdemeanor Expunctions
Felony Non-Disclosures
Felony Occupational Drivers Licenses
Felony Seizures
Felony Civil Commitment/Sexual Predators
2. What are the filing fees for Felony/Civil cases?
3. Are Felony/Civil cases E-Filed?
Yes, for additional information on Felony/Civil E-Filing click on the E-Filing link below
For additional Felony/Civil information please contact:
| | |
| --- | --- |
| Bond Forfeiture | 817-884-2514 |
| Expunctions | 817-884-1231 |
| Non-Disclosures | 817-884-2508 |
| Occupational Driver's License | 817-884-2514 |
| Seizures | 817-884-1156 |
| Civil Commitment/Sexual Predator | 817-884-1156 |