Public Health Emergency Preparedness
The goal of Tarrant County Public Health Emergency Preparedness (PHEP) is to build and strengthen department and community abilities to effectively respond to a range of public health threats, including infectious diseases, natural disasters, biological and chemical events.
PHEP works to build department plans, and develop drills to help us be prepared for appropriate emergency response.
In addition, PHEP offers important information on how residents, businesses and other groups can best prepare for local emergencies.
When there's an emergency, stay a step ahead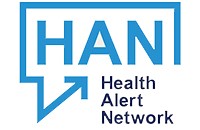 The Health Alert Network (HAN) is Tarrant County's official health and safety notification system.
HAN brings you official health and safety alerts from Tarrant County. If you live, work, or go to school in Tarrant County, HAN ensures you have accurate, actionable information when local disasters or emergencies occur. And with HAN, you can select the categories of alerts you wish to receive and how you wish to get them (text, email or phone call).

Get official alerts for:
•    Disaster exercises and drills
•    Disease and illness outbreaks
•    Extended power outages and infrastructure issues
•    Hazmat incidents
•    Immunization and vaccine notices
•    Mass casualty and active shooter situations
•    Mosquito spraying and abatement
•    Public health information
•    Water boil notices

Signing up for HAN takes only a few minutes and is totally free.
Contact
817-321-4879
1101 South Main Street Suite 2600
Fort Worth, Texas 76104
Monday - Friday, 8 a.m. - 5 p.m.