Tarrant County is continuing its efforts to make your experience as a juror as convenient as possible. Tarrant County has arranged for FREE remote parking at LaGrave Field, located off North Main at 301 N.E. 6th Street, approximately six blocks north of the Historic Tarrant County Courthouse.  Your dated Jury Summons or current Juror Badge may be used for FREE bus service from this lot on the Trinity Metro to the downtown area.
Trinity Metro buses pick-up and drop-off at the LaGrave Field parking lot every 15 minutes, Monday through Friday, from 7 a.m. to 7 p.m.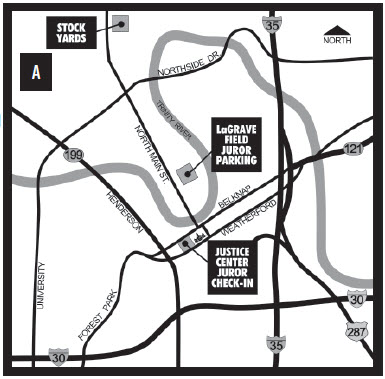 Jurors can also ride FREE on the Trinity Rail Express to the downtown Intermodal Transportation Center. It is important that you keep your Jury Summons or Juror Badge with you in order to benefit from this free parking and transit.
Parking Options

The only FREE PARKING is off-site; north of downtown at La Grave Field located at 301 N.E. 6th St. Fort Worth, TX 76164.
Jury Shuttle Bus departs from La Grave Field every 15 minutes from 7am - 7pm; serving 2 Bus Stops.

Use the Weatherford/Taylor Street Bus Stop to report to the Tim Curry Criminal Justice Center.
Use the Commerce Bus Stop for the Tom Vandergriff Civil Courts Building, Old Courthouse, or Family Law Center.

Jurors can also ride free on any Trinity Metro bus including all Park and Ride Lots and the Trinity Railway Express.
PAY PARKING


Pay parking is available at many privately owned lots in downtown for those who wish to park at your own expense. 
If you have a handicap license plate, sticker or placard, you may park free at the meters. The City of Fort Worth tells us they will not ticket you if you park at the meters as long as you adhere to the time limitations posted on the meters and street signs. Each street has different time limitations.  The handicap entrance to the Tim Curry Criminal Justice Center is located on Lamar Street. The street level entrance is the Lower Plaza. Take the elevator up one floor to the Plaza Level where the jury room is located.