Susan Murrin Pritchett Collection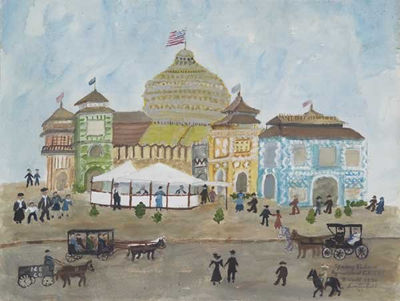 Summary: Donor served as the Tarrant County Archivist from 2000 to 2010. During this time, she developed an extensive named collection, particularly by acquiring published local history books. She also donated an extensive collection of magazines and yearbooks. The collection also includes some art prints as described below.
 View the Susan Murrin Pritchett image gallery.
Art
Prints of the Fort Worth Circle 1940-1960, September - November, 1992. Archer M. Huntington Art Gallery, College of Fine Arts, The University of Texas at Austin. Catalog of exhibition
The Etchings of Blanche McVeigh, Forty Years of Printmaking Presented by: Collectors of Fort Worth Art. Introduction and descriptions by Scott Grant Barker. October, 2003. Fort Worth, Texas. Number 24 of 50 copies. Paper cover. A catalog raising of the prints done by Ms. McVeigh
Ten Primitive Pictures of Old Fort Worth by Sweetie Ladd, nine are in portfolio, Liberty Bell on Nation-wide Tour, 1915; Livestock Exchange, 1902; the day Fort Worth Burned, 1909; Majestic Theater Lobby, 1911; Carnegie Library, 1901, Sidewalk Art Show; Federal Building, 1896; Natatorium; Spring Palace, 1890 (image shown); Fort Worth's T&P Depot
Books, Booklets, and Journals
The Fort Worth Story, Yesterday and Today, by Rosa May Henson and Golda Ruth Phillips. Fort Worth Public Schools, Fort Worth, Texas, 1967. Hardback
Decades of Caring, A Chronicle of the Political Life of Mike Moncrief, an Undergraduate Class Project by Students of Allen Saxe. Cengage Learning. 2008. Paperback edition, Includes a DVD in the rear cover: three Fort Worth Mayors, An Era of Continuity and Growth, 2008
Dancing Naked, Memorable Encounters with Unforgettable Texans, by Mary Rogers. TCU Press, Fort Worth, Texas. 2008 Paperback edition
Texas Women in World War II, by Cindy Weigand. Republic of Texas Press, Lanham, Maryland. 2003. Paperback edition
The History of Texas Methodism, 1900-1960, edited by Olin W. Nail. Capital Printing Company, Austin, Texas, 1961. First Printing. Hardback edition
The Blackie Sherrod Collection, by Blackie Sherrod. Introduction by Dan Jenkins. Taylor Publishing Company, Dallas, Texas. 1988. Hardback edition with loose cover
The Slave Narratives of Texas, edited by Ron Tyler and Lawrence R. Murphy. State House Press, Austin, Texas. 1997, First printing, 1974, by Encino Press, Paperback cover
Gay as a Grig, Memories of a North Texas Girlhood by Ellen Bowie Holland. University of Texas Press, Austin, Texas. 1963. Hardback edition with paper cover
Saint Demetrios Greek Orthodox Parish 75th Anniversary 1910-1985, Fort Worth, Texas, one copy
Fort Worth's Legendary Landmarks, photographs by Byrd Williams, text by Carol Roark, published by Historic Preservation Council for Tarrant County, 1995, Texas Christian University Press, Fort Worth, copy
Heart of the Metroplex, Hurst, Euless, Bedford, an Illustrated History by George N. Green, University of Texas at Arlington, Eakin Press, Austin, Teas, 1995
North of the River, A Brief History of North Fort Worth by J'Nell Pate, Texas Christian University Press, 1944
Stalking Louis Curtiss, Architect, A Portrait of the Man and His Work by Wilda Sandy and Larry K. Hancks, published by Ward Parkway Press, Kansas City, Missouri, 1991
The Fort That Became A City, An illustrated Reconstruction of Fort Worth, Texas, 1849-1854 by Richard F. Selcer, drawings by William B. Potter, Texas Christian University Press, 1995
Navarro County History compiled by Wyvonne Putman, published by Nortex Press, Quanah, Texas, copyright by The Navarro County Historical Society, 1975
Force Without fanfare: The Autobiography of K.M. Van Zandt, edited by Sandra L. Myres, Texas Christian University Press, Fort Worth, copyright 1968, second printing, 1995
A History of the Woman's Club of Fort Worth 1973-1998, The Diamond Jubilee Edition; Narrative compiled by Susan M. McKee, edited by Goldie West and Susan M. McKee, copyright 1998, The Woman's Club of Fort Worth
Grapevine Area History Supplement 1979-1989, sponsored by Grapevine Historical Society, copyright 1989, printed by Taylor Publishing Company, Dallas, Texas
Journal: Commemorative journal for the Nancy Lee and Perry R. Bass Performance Hall: Let the Angels Play
The Fading Family Physician by Judge M. Lyle, M.D., copyright 1965, published by Henry L. Geddie Company, Fort Worth
Texas Sketchbook, A Collection of Historical Stories From the Humble Wary by F. T. Fields, illustrated by E. M. Schiwetz, revised edition 1962, Humble Oil and Refining Company
Booklet: A Guide to Historic Sites in Fort Worth and Tarrant County , second revised edition of the 1963 booklet by W. J. Overman, prepared and published by The Tarrant County Historical Society, copyright 1969
Booklet: The Fort Worth National Bank, Century One: 1873-1973, booklet of photographs of Fort Worth, with text about the bank
Booklet: Fort Worth, an official publication of the Fort Worth Chamber of Commerce, June 1976 Special Bicentennial Issue
Johnson County, Texas, A Pictorial History, Volume 1 by Dan Leach and Billie Anne Leach, published 1998, The Donning Co. Publishers
The Little Town That Could: Westlake, Texas. Origins and Legacies by Joyce Gibson Roach. Westlake Historical Preservation Society. Donning Company Publishers, Virginia Beach, VA. 2009. Hardback with paper cover
Modern Art Museum of Fort Worth, The American Collection, Modern Art Museum of Fort Worth, 1988. Paperback cover
One A Day by Harold Maples, with special foreword by George Dolan. Cartoons from 1960-1972 as published in the Morning and Sunday editions of the Fort Worth Star-Telegram. 1972. Paperback cover
Burleson - The First One Hundred Years by Burleson Historical Committee, published 1981, Taylor Publishing Co., Dallas, Texas
History of Pearl, Texas by Charles E. Freeman, c. 1968, Freeman Printing Plant, Copperas Cove, Texas
Horseshoeing Days and Other Stories by George Wymer, 1964, Freeman Printing Plant, Copperas Cove, Texas
History of the Fort Worth Legal Community by Ann Arnold, First Edition, 2000, Eakin Press, Austin, Texas
Gamblers and Gangsters, Fort Worth's Jacksboro Highway in the 1940's and 1950's by Ann Arnold, First Edition, Eakin Press, Austin, Texas
A History of the Masonic Temple of Fort Worth by James Hunt Evans Jr., First Edition, December 1977, printed by Perkco Co. Subsidiary of Stafford-Lowden Co. Printers, Fort Worth, Texas, Covers by Worth Bindery Inc., Fort Worth, Texas
100 Years in Montague County Texas edited by Lt. Col. Jeff S. Henderson, cover by Mrs. Mabel Goodwin, printed by OPTA Printers, Saint Jo, Texas, 1973
Booklet: The Greek Texans, The University of Texas, Institute of Texan Cultures, San Antonio, 1982, principal researcher: James Patrick McGuire, second edition
The Story of the Lumbermen's Association of Texas by Russell J. Todaro, 1985, Lumbermen's Association of Texas, 100th Anniversary, 1886-1986
The Chisholm Trail by Wayne Gard, illustrations by Nick Eggenhoffer, University of Oklahoma Press, Norman, copyright 1954
Weatherford, Texas by Barbara Y. Newberry and David W. Aiken, Arcadia Publishing, Charleston, South Carolina, in the images of America series, copyright 1999
A Taste of Old Mansfield, A Recipe Collection of Family Traditions, published by The Mansfield Historical Society, first printing, December 2000
Cowboys and Cattleland, Memories of a Frontier Cowboy by H. H. Halsell, with an production by Grace Halsell. The Chisholm Trail Series, Texas Christian University Press, Fort Worth. First printing of this edition: June 1983. Originally Published by Parthenon Press, Nashville, TN., 1937. Hardback
Hazel Vaughn Leigh and the Fort Worth Boys' Club by J'Nell L. Pate. Published for the Fort Worth Public Library by Texas Christian University Press. Copyright 2000. Paperback
Reminiscences of the Early Days of Fort Worth by Captain J. C. Terrell. Texas Printing Co., Fort Worth, 1906. Reprinted by TCU Press in cooperation with Texas Wesleyan University, for Fort Worth Sesquicentennial, 1999. An Afterward by Judge Steve M. King was added to the 1999 edition. Hardback
Life of the Texas Pacific Coal and Oil Co., 1888-1963 by George B. Studdard. Privately printed. Copyright 1992, Fort Worth, Texas. Paperback
Dallas Then and Now by Ken Fitzgerald. Thunder Bay Press, 2001. Hardback
Trinity River, photographs by Luther Smith, essays by Mike Nichols and Tom Southall. TCU Press, Fort Worth, copyright 1997. Paperback
When Panthers Roared, The Fort Worth Cats and Minor League Baseball by Jeff Guinn with Bobby Bragan. Texas Christian University Press, Fort Worth, 1999. Hardback
Early Texas Architecture by Gordon Echols. Texas Christian University Press, 2000. Hardback
Dallas Rediscovered: A Photographic Chronicle of Urban Expansion, 1870-1925 by William L. McDonald. Published by the Dallas Historical Society, Dallas, Texas. 1978. Printed by Riverside Press, Dallas, Texas. Hardback
Jazz Age Boomtown, by Jerry L. Rodnitzky and Shirley R. Rodnitzky. Texas A&M University Press, College Station. 1997. Paperback
Women Pioneers in Texas Medicine, by Elizabeth Silverthorne and Geneva Fulgham. Texas A&M University Press, College Station. 1997. Hardback
Early Texas Physicians, 1830-1915. Edited by R. Maurice Hood, M.D. Introduction by T.R. Fehrenbach. Published by State House Press, Austin, Texas, for THE TEXAS SURGICAL SOCIETY, San Antonio, Texas, 1999. Hardback
Cattle Kings of Texas, by C. L. Douglas. State House Press, Austin, Texas. 1989. Reprint with new introduction, originally printed in 1939. Paperback
A Hundred Years of Heroes, A History of the Southwestern Exposition and Livestock Show. By Clay Reynolds with Marie-Madeleine Schien. TCU Press, Fort Worth. 1995. Hardback
From Tyler, Texas to Tokyo, The Pacific War Letters and Photograph Collection of Captain Elmer R. Dixson. By Walter Clay Dixson. Published by the Historic Aviation Memorial Museum, Tyler, Texas. Printed by Digital Printing And Imaging Inc., Tyler, Texas. 2002. Paperback
Houston, A Historical Portrait. By John L. Davis. The Encino Press, Austin. 1983. Hardback
A Neighborhood Portrait: Polytechnic Heights of Inner City-Fort Worth Edited by Sara Horsfall. Sunbelt Eakin Press. Austin, Texas. 2002. Paperback
Beth-El Congregation, Fort Worth, Texas. Centennial 1902-2002. By Hollace Ava Weiner. Printed by Ben Herman and Associates/Graphics 2002. Hardback
Fort Worth Stockyards, National Historic District. Longhorns, Cattle Brands, Barbed Wire and a Tin Bathtub. By Horace Craig. 1994. Printed by Morris Publishing, Kearney, Nebraska. Paperback
Trinity Parish, Fort Worth, Texas 1893-1993 by Charles A. Watson. Copyright by Trinity Episcopal Church, Fort Worth, Texas. 1993. History of congregation as it began as a mission under St. Andrew's Episcopal, listing rectors, wardens, early baptisms seven marriages, parish statistics, and summary of diocesan and national developments
Livestock Legacy, The Fort Worth Stockyards, 1887-1987 by J'Nell L. Pate. Texas A&M University Press, College Station. Copyright 1988. 2nd printing, 1992. Paperback. Autographed by author on title page
The Rodeo of John Addison Stryker, With an Introduction by Ron Tyler. The Encino Press, Austin, Texas. 1977. By 1920, photographer Stryker had become one of the best to capture rodeo action in a still shot. His later career was based out of Fort Worth
Recipes and Remembrances Mid-Cities Genealogical Society, 2001. Cookbook Mid-Cities Genealogical Society PO Box 407 Bedford, Texas 76095-0407. Paper cover, spiral bound
Fort Worth and Tarrant County, a Historical Guide. Edited and revised by Ruby Schmidt. A Project of the Tarrant County Historical Society. Texas Christian University Press, Fort Worth. Maps and illustrations by Jone Berquist. 1984. Paperback, signed by author on frontispiece
The Business Traveler's Survival Guide, Dallas, Fort Worth. Published by Business Travelers Inc. New York 1982, First Printing. Paperback
A Light in the Prairie, Temple Emanue-El of Dallas 1872-1997 , by Gerry Cristol. Texas Christian University Press, Fort Worth. 1998. Hardback
Roadside History of Texas by Leon C. Metz. Mountain Press Publishing Company, Missoula, Montana. 1994. 3rd printing. Paperback
Texas Almanac 2002-2003, Published by the Dallas Morning News Distributed by the A&M University Press, Copyright 2001. Paperback. 2000 Census Data
Stories from the Barrio, A History of Mexican Fort Worth by Carlos E. Cuellar. TCU Press, Fort Worth. Copyright 2003. Hardback
Robert's Rules of Order, Original 1876 Text by Major Henry M. Robert. Completely revised by Darwin Patnode, Ph.D. Berkeley Books, New York. 1993. Paperback
Identifying American Architecture, A Pictorial Guide to Styles and Terms, 1600-1945. John J.-G. Blumenson. With photographs from the Historic American Buildings Survey, commentary on photographs by David Harding Paine. AltaMira Press, Walnut Creek, London, and New Delhi. Copyright 1995. Paperback
Journal: Les Crocker's The Tarrant County Historical Journal, printed on newsprint, tabloid-sized. Publisher describes contents as "being a narrative of my wanderings journeys, and explorations in and about Tarrant County." Nine editions from 1997 to 1998. One copy of his Vagabond Chronicles. Paperback
Official Visitor's Guide to Fort Worth, 1997. Published by Magnolia Media Group
Slightly Left and Right of Center by George Dolan. Illustrations by Abbott J. Hoecker. Branch-Smith Inc, publishers. Fort Worth, Texas. 1967
Pauline Periwinkle and Progressive Reform in Dallas by Jacquelyn Masur McElhaney. Texas A&M University Press. College Station. 1998. First Edition
A Hand on My Shoulder: The Story of Lena Pope and The Home That Evolved From Her Dreams. By Lena Holston Pope. Published through the sponsorship of the Alumni Association of The Lena Pope Home. Branch-Smith Inc. Fort Worth, Texas. 1966. Signed by author
Fort Worth and Tarrant County, An Historical Guide. Edited and Revised by Carol Roark. A project of the Tarrant County Historical Society Inc. and TCU Press. Texas Christian University Press, Fort Worth, Texas. 2003, Paperback. Signed by author
The Cowgirls. By Joyce Gibson Roach. Preface by C. L. Sonnichsen. Afterward by Elmer Kelton. University of North Texas Press. 1990. 2nd Edition, revised and enlarged. Paperback
Jewish Stars in Texas: Rabbis and Their Work by Hollace Ava Weiner. Foreword by Rabbi Jimmy Kessler. Texas A&M University Press, College Station. 1999
Alexander Beall of Maryland 1649-1744 One Line of Descent in America. Compiled by William Hunter McLean, Fort Worth, Texas, First Edition. Copyright 1977 by the Fort Worth Genealogical Society. Hardback
From Ayr to Thurber, Three Hunter Brothers and the Winning of the West. Compiled by William Hunter McLean. First Edition. Copyright 1978 by the Fort Worth Genealogical Society. Hardback
BLACK DIAMONDS! BLACK GOLD! The Saga of Texas Pacific Coal and Oil Company, by Don Woodard. Texas Tech University Press, Copyright 1998 by Don Woodard. Hardback with paper dust cover
Texas Constitution Revised January 2000 Published by the Texas Legislative Council, Austin, Texas. Lt. Gov. Rick Perry, Chairman. Spiral bound Paperback
The Will Rogers Book, compiled by Paula McSpadden Love, Curator, Will Rogers Memorial, Claremore, Oklahoma. Texan Press. Waco, Texas. 1971, 2nd Printing. Hardback with paper dust cover
Fort Worth in Vintage Postcards by Quentin McGown. Postcard History Series, Arcadia Publishing. Copyright 2003 by Quentin McGown. Paperback
Wildcatters, Texas Independent Oilmen, by Roger M. Olien and Diana Davids Olien. Texas Monthly Press Inc. Austin, Texas. Copyright 1984. Hardback with paper dust cover
The Great State Fair of Texas, An Illustrated History, by Nancy Wiley. Foreword by A. C. Greene. Taylor Publishing Co., Dallas, Texas. Copyright 1985. Hardback with paper
Politics of Arlington, Texas An Era of Continuity and Growth by Allan Saxe. Eakin Press, Austin, Texas. First Edition, 2001. Paperback copy
Texas Almanac, 2004-2005. Published by the Dallas Morning News, Elizabeth Cruce Alvarez, editor. Distributed by Texas A&M University Press. Copyright 2004. Paperback
Jerome A. Moore, A Man of TCU, by John H. Hammond. Texas Christian University Press, Fort Worth, Texas. First Printing, 1974. Hardback edition
Historic Oakwood Cemetery with Calvary Cemetery and Old Trinity Cemetery of Fort Worth, Texas. Compiled by Helen McKelvey Markgraf and Rob G. Yoder. Published by the Fort Worth Genealogical Society, 1994. Hardback
Great Roundup: The Story of Texas and Southwestern Cowmen, Lewis Nordyke. Castle Books, 2001. Reprinted with permission of William Morrow. Copyright 1955 by Lewis Nordyke. Illustrations by H.D. Bugbee, jacket cover by Charles M. Russell. Hard copy
Cynthia Ann Parker, The Life and The Legend by Margaret Schmidt Hacker. Texas Western Press, University of Texas at El Paso, Southwestern Studies Series. No. 92. Copyright 1990. Paperback copy
Debrett's Texas Peerage by Hugh Best. Coward-McCann Inc. New York, Copyright 1983 by Debrett's Peerage Limited. Hard copy
1001 Texas Place Names by Fred Tarpley, with sketches by Sally Blakemore. University of Texas Press, Austin, and London. 1980. Paperback copy
Walking TCU, A Historic Perspective by Joan Hewatt Swaim. Texas Christian University Press, Fort Worth. 1992. Description and history of each building on campus with a sketch on individual whose name is on building. Paperback copy
Fort Worth, New Frontiers in Excellence A Contemporary Portrait by Mike Patterson. Fort Worth's Enterprises by Kathryn Jones. Produced in cooperation with the City of Fort Worth. Windsor Publications. Chatsworth, California. 1990. Hardcopy
Shattered the Tarrant Tornadoes, March 28, 2000. Fort Worth Star-Telegram. 2000. Paperback copy
Flyers of Barron Field by Bill Leary. Privately printed by the author, The Yrael Publishing Co. Tales retold here of anecdotes of flyers remembered by author's mother, Alice Collins Leavey, 2003. Paperback copy
Pioneer History of Wise County From Red Men to Railroads, Twenty Years of Intrepid History, by Cliff D. Cates. Decatur, Texas, 1907. Reproduced from 1975 reprint under the direction of the Wise County Historical Commission. Hard copy
History of Wise County, A Link With The Past. First Edition, Volume 1 Wise County Historical Survey Committee. Rosalie Gregg, editor. 1975. Nortex Press, 515 pages. Hard copy
The Story of Bird's Fort, Birthplace of the Metroplex by Don Tipps. Published by the author. 2003. Paperback copy
Princes Shall Come Out of Egypt, Texas, and Fort Worth, by Reby Cary. Dorrance Publishing Co. Inc. Pittsburgh, PA. An African-American history with emphasis on political leadership in Texas, and in particular, Fort Worth. 2002. Paperback copy
Texas Signs On The Early Days of Radio and Television by Richard Schroeder. Texas A&M University Press, College Station. The Centennial Series of the Association of Former Students, Texas A&M University, No. 75. 1998. First Edition. Hard copy
Comanches in the New West 1895-1908 Text by Stanley Noyes with the assistance of Daniel J. Gelo, foreword by Larry McMurtry. Historic Photographs by Alice Snearly and Lon Kelley. University of Texas Press, Austin. First Edition. 1999. The Jack and Doris Smothers Series in Texas History, Life, and Culture. No. 1 Hard copy
Wildcatters, The True Story of How Conspiracy, Greed, and the IRS Almost Destroyed a Legendary Texas Oil Family, by Charlie Moncrief. Regency Publishing Inc. Washington, D.C. 2002. Hardback with paper Jacket
Moments, The Life and Career of a Texas Newsman, by Chip Moody, Foreword by Tracy Rowlett. Taylor Publishing Company, Dallas. 1995. Author's inscription on front flysheet. Hardback with paper dust jacket
Citizen Perot, His Life and Times, by Gerald Posner. Random House, New York. 1996. First Edition. Hardback with paper dust jacket
Grass-Roots Diplomat, Neville G. Penrose, Buen Amigo y Vecino, by Marguerite Potter, Ph.D., Texas Christian University. Published by Leo Potishman Foundation, Texas Christian University, Fort Worth, Texas, 1961. Printed and bound by the Manney Company, Fort Worth. Inscribed on inside front cover by Neville Penrose to Charley Woodard, January 1962. Hardback book with paper dust jacket
The Murchisons: The Rise and Fall of a Texas Dynasty, by Jane Wolfe. St. Martin's Paperbacks. New York City, 1989. Paperback
The Van Cliburn Legend, by Abram Chasins with Villa Stiles. Doubleday and Company Inc. Garden City, New York. 1959. Hardback, With paper dust jacket
Reflections of a Public Man, by Jim Wright. Madison Publishing Co., Fort Worth, Texas 1984. Paperback
Plowboys, Cowboys, and Slanted Pigs, A Collection by Jerry Flemmons, with a foreword by George Dolan, drawings by J. D. Crowe. Texas Christian University Press, Fort Worth, Texas. 1984. Paperback
Curmudgeon in Corduroy, The Best of Jerry Flemmons' Texas. Introduction by Mike Cochran. TCU Press, Fort Worth, Texas, 2000. Paperback
The Woman's Club of Fort Worth Cook Book. Editors: Mrs. Clyde A. Lilly and Mrs. Olin Davis. The Bunker Press, Fort Worth, Texas. 1928 Hardback
I'll Gather My Geese by Hallie Crawford Stillwell. Texas A&M University Press, College Station, Texas.1991. Hardback with paper dust jacket
Literary Fort Worth, Editors: Judy Alter and James Ward Lee. TCU Press, Fort Worth, Texas. 2001. Paperback
Sweetie Ladd's Historic Fort Worth. Paintings by Sweetie Ladd, text by Cissy Stewart Lale. TCU Press, Fort Worth, Texas. 1999. Hardback with paper dust jacket
Dallas Fort Worth, A Picture Book to Remember Her By, Crescent Books, New York,. 1985. Hardback with paper dust jacket
Alliance, a Decade of Success, a New Century of Opportunity by Mark E. Hanshaw, photography by Jim Winn. Magnolia Media Group, Fort Worth, Texas. 1999. Hardback with paper dust jacket
Portraits of Community, African American Photography in Texas. Alan Govenar. Texas State Historical Association, Austin, Texas. 1996. Chapter on Fort Worth with photographs by Calvin Littlejohn, pages 94-109. Hard-back with paper dust jacket
Famous Trees of Texas, published by Texas Forest Service, a part of The Texas A&M University System. Edited by John A. Haislet. First Edition, December 1970. Hardback
The Texans, BY James Conaway. Alfred A. Knopf, New York, 1976. Some chapters relate to John Connally, Sid Richardson, Marshall Young Family, Perry Bass family, and Moncrief family. Hardback with paper Dust jacket
Tarrant County Sheriff's Office, Over 150 Years of Service. Turner Publishing Company, Paducah, Kentucky. Limited Edition, 2004. Black hardback yearbook publication
The See-Through Years, Creation and Destruction in Texas Architecture and Real Estate, 1981-1991, by Joel Warren Barna. Rice University Press, Houston, Texas. First Edition, 1992. Hardback
The WPA Dallas Guide and History, introduction by Gerald D. Saxon. Dallas Public Library, Texas Center for the Book, University of North Texas Press. 1992. Hardback copy
Standard of the West, The Justin Story by Irvin Farman TCU Texas Biography Series No. 2, Texas Christian University Press, Fort Worth. 1996. Hardback with paper jacket
Reminiscences, Biographical and Historical by Randolph Clark, 1919. Facsimile edition, 2nd printing, 1986. Texas Christian University Press, Fort Worth. 1986. Hardback in box
The Purple Lawman, From Horned Frog to High Sheriff, The story of Lon Evans, edited by Carl Freund, Louie Hulme, D. Kent Pingel, and Kitty Evans Loveless. The Summit Group, Fort Worth, 1990. Hardback with paper jacket, signed by author
Texas Christian University: A Hundred Years of History by Jerome A. Moore. Texas Christian University Press, Fort Worth, 1974, First Printing. Signed by author. Hardback
Rotary Club of Fort Worth Seventy-Fifth Anniversary, 1913-1988 Louie Hulme, editor. Published by the Rotary Club of Fort Worth, 1988. Hardback
I Give You Texas! 500 Jokes of the Lone Star State by Boyce House. The Naylor Co., San Antonio. 4th printing, 1943. Hardback
Mighty Works of Glory, A History of Travis Avenue Baptist Church, 1911-1986 Grimes Fortenberry, executive editor. Branch-Smith Printing Co., Fort Worth, 1986. Hardback
Legendary Watering Holes, The Saloons that Made Texas Famous, collected and edited by Richard Selcer. Texas A&M University Press, College Station. 2004 Hardback with paper dust jacket
Panther City, Our Heritage, Our Home. A Tribute to Fort Worth, Texas Featuring the photography of Skeeter Hagler. Produced by the Rogers Group, Fort Worth. Sprint Press Inc. 2005. Paperback book
Baseball in Fort Worth By Mark Presswood and Chris Holoday Arcadia Publishing, 2004. Paperback
Developing and Maintaining Practical Archives, by Gregory S. Hunter 2nd Edition. A How-To-Do-It Manual. No. 122, Neal-Schuman Publishers Inc. New York, London. 2003. Paperback
Preserving Archives and Manuscripts, by Mary Lynn Ritzenthaler. Society of American Archivists, Chicago. 2nd printing, 2003. Hardback
Libraries and Archives, Design and Renovation with a Preservation Perspective by Susan Garretson Swartzburg, Holly Bussey, and Frank Garretson. Scare Crow Press Inc., Lanham, Maryland, and London, copyright 1991, First Paperback Edition, 1998
Celebrating Early Texas Art, Treasures from Dallas-Fort Worth Private Collections, 1900-1960. Curated by Mark Thistlewaite. Fort Worth Community Arts Center, 2005. Paperback
Biographical History of Tarrant and Parker Counties, History of Texas series. Lewis Publishing Company, Chicago, 1895. Index copyrighted by Weldon Hudson, 1983. Printed and distributed by GTT Books, Fort Worth. Paper cover
Cemetery Records of Irving, Texas. Cataloged by the Irving Genealogical Society, January 1996. Inventories for Bear Creek, Harrington, Minter's Chapel, and Tompkins Cemeteries are in Tarrant County or on the boundary between Dallas and Tarrant counties. Paper cover
Birdville, Texas Frontier Wildness, County Seat, and Beyond written by Evyonne Andrews Eddins, Betty Porter, and David Voorhees. Published by the Birdville Historical Society, copyright 2005. First Edition: 89/250. Paper cover
The Courthouse Square in Texas, by Robert E. Veselka. University of Texas Press, Austin. 2000. paper cover
Texas Siftings, A Bold and Uncommon Celebration of the Lone Star State by Jerry Flemmons. Texas Christian University Press, Fort Worth. 1995. Paper cover
Thistle Hill, The Cattle Baron's Legacy, by Roze McCoy Porter Branch-Smith Inc. Fort Worth, Texas. 1980. Hardback book
Electra II, Electra Waggoner Biggs: Socialite, Sculptor, Ranch Heiress by Roze McCoy Porter. Taylor Printing Co., Dallas, Texas. 1995. Produced by the Red River Valley Museum, Vernon, Texas. Hardback
Ramblings of a Country Doctor, by Zach Bobo Jr., M.D. First Edition. Published by Southwest Offset Inc. Dallas, Texas. 1977
Black Leaders, Texans For Their Times. Edited by Alwyn Barr and Robert A. Calvert. Texas State Historical Association, 1981. Paperback book
How We Got Over! Update on a Backward Look by Reby Cary. First Edition. 2005, Publisher unknown, Paperback book
Document Sets for Texas and the Southwest in U. S. History. J'Nell L. Pate, Tarrant County Junior College. D. C. Heather and Company, Lexington, Massachusetts. 1991. Paperback book
When I Was Just Your Age, Remarkable Reflections on Growing up in Another Era. By Robert Flynn and Susan Russell. University of North Texas, Denton. 1992. Paperback book. Oral history transcripts from a variety of Texans
University of Dallas, 50 Years of Vision and Courage, 1956-2006. Written by a variety of contributors, professors and alumnae of the University. Published by the University of Dallas, 2006. Printed by Millet The Printer Inc. Paperback cover
Fort Worth: Catching the World's Attention, by Michael Pellecchia. Corporate Profiles by Nancy Brownlee and photography by Norman G. Morrow Jr. Produced in cooperation with the Fort Worth Chamber of Commerce. Community Communications Inc. Montgomery Alabama. 1995. Hardback
Caring For Your Collections, Heritage Preservation. Arthur W. Schultz, General Editor. Harry N. Abram Inc., Publishers. 1992. Hardback
Field Guide to Emergency Response, Heritage Preservation Inc. 2006. CD is included. Paper cover
Planning New and Remodeled Archival Facilities, Thomas P. Wilsted. The Society of American Archivists, Chicago, IL. 2007. Paper Cover
The History of Harris Methodist Hospital, Laura Van Hoosier. Harris Methodist Fort Worth Hospital, 2006. Hardback cover
The First 100 Years, 1906-2006, Ben E. Keith Company. By Liz Oliphant. Eakin Press, Austin, Texas. 2006, First Edition. Hardback cover
Leaders Count, The Story of BNSF Railway, by Lawrence H. Kaufman. Texas Monthly Custom Publishing. Austin, Texas. 2005. Paper cover. First printing Wise County, 25 Years of Progress by John A. Jackson. Williamson Printing Corporation, Dallas, Texas. 1972. Paperback cover
Colonel Morgan Jones, by Vernon Gladden Spence. University of Oklahoma Press, Norman, OK. 1971. Hardback cover TWELVE MIGHTY ORPHANS, The Inspiring Story of the Mighty Mites who ruled Texas football. By Jim Dent. Thomas Dunne Books, St. Martin's Press, New York. 2007. First Edition. Autographed copy. Hardback cover
The Fading Family Physician, by Judge M. Lyle, M.D. Henry L. Geddie Company, Fort Worth. 1965. Dedicated by author on inside cover to Hazel Hunnicutt, May 17, 1965. Hardback cover. 1965
The Lusty Texans of Dallas, Their First 125 Years, by John William Rogers. New expanded edition. Distributed by Cokesbury Book Store, Dallas, Texas 1965. Hardback cover
Historic Photos of Fort Worth, Text and Captions by Quentin McGown. Turner Publishing Company, Nashville, TN. 2007. Hardback Copy
Lone Stars of David, The Jews of Texas, compiled and edited by Hollace Ava Weiner and Kenneth D. Roseman. Brandeis University Press, Waltham Massachusetts. 2007 copyright by the Texas Jewish Historical Society, Hardback copy
Renegades, Showmen, and Angels, A Theatrical History of Fort Worth from 1873-2001. Jan L. Jones. Cover and text design by Bill Maize. Self-published. 2006
Recipes from Out to the House, Seasoned with Soul. Sponsored by the Garden of Eden Neighborhood Association. Morris Press Cookbooks. 2007
Colossus in Clay: Acme Brick Company, The Story of the Largest American- owned Brickmaker. By Edwin W. Lehr, Ph.D. The Donning Company Publishers. 1998. Hardback
Cooking with the Original Search Engine, Fort Worth Public Library. Libraries Have it All. All Staff Association. 2001. Hardback
A Historical Atlas of Texas, by William C. Pool. Maps by Edward Triggs and Lance Wren. The Encino Press, Austin, Texas. 1975. Hardback
Per Stirpes, The John M. Nail Family in Texas. 1839-1995 by Reilly Nail. Self-published, no date. Paperback cover
University Christian Church, Fort Worth, Texas. 1992 Directory. Hardback
Billy Bardin and the Witness Tree by Mary E. Penson. TCU Press, Fort Worth. 2004. Paperback cover
Gracious Ladies, Selected Fine Homes on Pennsylvania Avenue, Summit Avenue, and Penn Street between 1900-1920 by Georgette Dally McGar. 1985. Self-published, paperback
The Peters Colony of Texas, by Seymour V. Connor. Texas State Historical Association publication. Austin, 1959. Reprint edition, 2005, Paperback copy
Boots to Briefcases, Jack Borden, Country Lawyer, Toils-Trials-Tales by Jack Borden. Nebo Valley Press, Weatherford, Texas, 2003. Hardback copy
A Parker County Cowboy "All Over" by Leon Tanner and Mary Kemp. Nebo Valley Press, Weatherford, Texas. 2002. Hardback copy
Parker County Legends, Trail Bosses and Wild Hosses, by Leon Tanner and Mary Kemp. Nebo Valley Press, Weatherford, Texas. 2007. Hardback copy
From Prairies to Planes: How Dallas and Fort Worth Overcame Politic and Personalities to build one of the World's Biggest and Busiest Airports by Darwin Payne and Kathy Fitzpatrick. Three Forks Press, Dallas. 1999. Hardback
I Give You Texas! by Boyce House, 500 Jokes of the Lone Star State. The Naylor Company, San Antonio, Texas. 1943. Hardback copy
Grace and Gumption, Stories of Fort Worth Women. Katie Sherrod, editor. TCU Press. 2007 Hardback copy
Accused American War Criminal, by Fiske Hanley II. Eakin Press, Austin, Texas. 1997. First Edition. Hardback copy
Fort Worth, Then and Now. Text by Carl Roark. Contemporary photograph by Rodger Mallison. TCU Press, Fort Worth. 2001. Hardback copy
Before Texas Changed, A Fort Worth Boyhood. David Murph. TCU Press, Fort Worth. 2006. Paperback edition
We've Come This Far, A 2007 Retrospective on Blacks in Fort Worth and Tarrant County. Reby Cary. Autographed copy. Paperback edition. Publisher unknown. 2007
The Best and The Rest of George Dolan, George Dolan. Edited by Louie Hulme. The Summit Group, Fort Worth. 1989. Hardback cover
Jewish "Junior League", The Rise and Demise of the Fort Worth Council of Jewish Women. Hollace Ava Weiner. Texas A&M University Press, College Station. Autographed copy. Hardback edition
Please Pass the Biscuits, Pappy, Pictures of Governor W. Lee "Pappy" O' Daniel by Bill Crawford. University of Texas Press, Austin. 2004. Hardback edition
To the Glory of God, A Building for Worship. St. Stephen Presbyterian Church. Date unknown, publisher unknown. Hardback copy
Fort Worth Social Directory 2005-2007. Published 2005 by Kay Fortson Baldwin and Ben Fortson, III. Hardback copy
True Legacy, The Biography of a Unique Texas Oilman, W.A. "Monty" Moncrief, by John David Scott. 1982. No publisher; called a Limited Edition, but no number was assigned to copy. Hardback copy
Be My Guest, by Conrad N. Hilton, A Fireside Book, published by Simon & Schuster, New York, 1957. Fireside Edition 1994. Paperback copy
Eagles Must Fly, A History of Aviation From Open Cockpits to Jets as Participated in by
Jack B. Jaynes. Edited by Charles H. Young. Taylor Publishing Co. Dallas, Texas. 1982. Hardback copy. Autographed by author
On Wings of Eagles, A History of the First Baptist Church of White Settlement, Texas. 1868-1968. by James H. Semple. Published by the church in 1968
SOAPY, An Authorized Biography of Earnest O. "Soapy" Gillam, by C. A. Sellers. News Printing Company, Fort Worth, Texas. 1958. Hardback copy
History Comes Alive: Coliseum Centennial 1908-2008. Cowtown Coliseum, Fort Worth, Texas "Home of the World's First Indoor Rodeo", by Billy Joe Gabriel. Published by Cowtown Images, 2007. Fort Worth. Paper cover
The Stars and Stripes, A Complete File of the Stars and Stripes, The Official Newspaper of the American Expeditionary Force. Printed in France from February 8, 1918 to June 13, 1919. Cloth bound edition, some soiling on cover, pages slightly soiled, newsprint is fragile. 18 by 23 by 2 inches
Managing Historical Records Programs, A Guide for Historical Agencies, by Bruce W. Dearstyne. Alta Mira Press. 2000 Paper cover
The Human Tradition in Texas, edited by Ty Cashion and Jesus de la Teja.
SR Editions, Wilmington, Delaware. 2001. Paper cover. Included is essay by J'Nell Pate: Ormer Leslie Locklear, The Epoch of Flying has Arrived
Forever Texas, Texas, The Way Those Who Lived It Wrote It, edited by Mike Blakely and Mary Elizabeth Goldman. A Tom Doherty Associates Book. New York, 2007. Hardcover. Included are entries by Sherrie S. McLeRoy, biography of Ninnie L. Baird, and a short history of Texas railroads by Richard Russack, CEO of Burlington Northern in Fort Worth
The Waldemar Story, Camping in the Texas Hill Country. Compiled by Marsha English Elmore. Written by Sue Van Noy Willett and Carolyn Carmichael. Eakin Press, Austin, Texas. 1998, First Edition. Hardback
Texas Almanac, 2006-2007. Sesquicentennial Edition, 1857-2007, Published by the Dallas Morning News. 2006
Texas Weather, by Harold Taft and Ron Godbey. KXAS-TV, Channel 5. 1975 Published by England and May, Oklahoma City, OK. Paper cover
Going Great in the Lone Star State, June Rayfield Welch. Texian Press, Waco, 1976, first printing. Hardback
Jack Danciger, His Life and Work, by General Ignacio Richarday, translated by Ann Marie Swenson. Copyright by Jack Danciger, 1963. Hardback copy
Panther's Rest, History of the Fort Worth Police Department, 1873-21st Century, by Dale L. Hinz. Author House, Bloomington, IN. 2007, Paperback
 
Fort Worth 2004 Comprehensive Plan. Adopted by the Fort Worth City Council, February 24, 2004. Paperback, with spiral binding
Car 100, Elegant Travel of the Past. Linda Pavlik for Mercantile Corporation of Fort Worth. Copyright 1981 by Mercantile Corporation of Fort Worth. Hardback
Victory Through Prayer, A History of Rosen Heights Baptist Church, 1906-1966. Leon McBeth. Published by Rosen Heights Baptist Church, Fort Worth, Texas, 1966
Pigskin Pulpit, A Social History of Texas High School Football Coaches. Ty Cashion. Foreward by O. A. "Bum" Phillips. Texas State Historical Association, Austin. 1998. Hardback with paper cover
A Place in Mind, by Dulce D. Moore. Baskerville Publishers, Ltd. Dallas, New York, Dublin. 1992. First printing. Hardback with paper cover
Fort Worth Kid's View by Marilyn Patterson and Kids: Melina, Austin, Kayela, Natalie, Andy, and Danielle. Prairie River Publishing LLC, Merrill, Wisconsin. 2005. Paperback cover. Title page is signed by each author
My Years with Bob Wills, by "Brother" Al Stricklin with Jon McConal. The Naylor Company, San Antonio, Texas. 1976, Second Printing. Hardback with paper cover
The Littlest Wiseman, A Play Pageant of the Nativity, by Lloyd Shaw, With Poems by Dorothy Shaw. The Caxton Printers, Ltd. Caldwell, Idaho. 1977. Copyright 1924, 1951 by Lloyd Shaw. Copyright 1966, 1973, 1977, by the Lloyd Shaw Foundation Inc. Hardback with paper cover
Modern Art Museum of Fort Worth by Michael Auping, General Editor. Third Millenium Publishing, London. 2002. Cardboard cover
Philip Johnson and Texas by Frank D. Welch. Photographs by Paul Hester. Foreward by Philip Johnson. University of Texas Press, Austin. 2000, First Edition. Hardback with paper cover
The Story of Cynthia Ann Parker: Sunshine on the Prairie, by Jack C. Ramsey Jr. Eakin Press, Austin, Texas. 1990, First Edition. Hardback with paper cover
Fort Worth Stockyards by J'Nell L. Pate. Images of America Series, Arcadia Publishing, Charleston, Chicago, Portsmouth, San Francisco. 2009. Paperback. Autographed by author on first page
Navigating Legal Issues in Archives, by Menzi L. Behrnd-Klodt. Society of American Archivists, Chicago. 2008 Paperback copy
Archival Internships, A Guide for Faculty, Supervisors, and Students by Jeannette A. Bastian and Donna Webber. Society of American Archivists, Chicago. 2008. Paperback
Photographs: Archival Care and Management by Mary Lynn Ritzenthaler and Diane Vogt-O'Connor. Society of American Archivists, Chicago. 2006, Second Printing, 2008, Cardboard cover
Cinderella Kid "Remastered," A History of Blacks in Fort Worth by Reby Cary. Branch Smith Printing, Fort Worth. 2009 Paperback copy
Fort Worth Characters, by Richard Selcer. University of North Texas Press
Denton, Texas. 2009 Paperback copy
Dancing Naked, Memorable Encounters with Unforgettable Texans, by Mary Rogers. TCU Press, Fort Worth, 2008. Paperback copy
Calvin Littlejohn, Portrait of a Community in Black and White, by Bob Ray Sanders. TCU Press, Fort Worth and the Dolph Briscoe Center for American History, Austin, Texas. 2009. Hardback copy with paper cover
The Indians of Texas, from Prehistoric to Modern Times. By W. W. Newcomb Jr. with drawings by Hal M. Story. University of Texas Press, Austin. Paperback. 1961
Scottish Capital on the American Credit Frontier, by W. G. Kerr. Texas State Historical Association, Austin. 1976. Hardback with dust jacket
A Field Guide to American Houses, by Virginia and Lee McAlester. Alfred A. Knopf, New York. 2009. Paperback copy
Fort Worth and a Little Philosophy: Family History, Memoirs, Autobiography By C. Milo Thelin, P. E. Self-published, year unknown, c. 1993
Sam Baugh, Best There Ever Was by Whit Canning. Edited by Dan Jenkins. M Sports, Dan Jenkins' Texas College Football Legends. In association with the Fort Worth Star-Telegram. 1997. Hardback edition with paper dust jacket
Around Aledo, Susan McKeague Karnes; foreword by Homer Norris.
Images of America series, Arcadia Publishing. Charleston, SC. 2010. Paperback edition
Fort Worth's Arlington Heights, Juliet George. Images of America series, Arcadia Publishing Co., Charleston, SC. 2010. Paperback edition
Written in Blood: The History of Fort Worth's Fallen Lawmen, Volume I, 1861-1909. Richard F. Selcer and Kevin S. Foster. University of North Texas Press. Denton. 2010. Paperback edition
Fifty Years Under the Bench, Stories, Anecdotes and Experiences from the Courtroom, by Jim Feagin. The Naylor Company, San Antonio, Texas. 1950. Hardback edition. Author served as a courtroom reporter from 1899-1949 in Texas courts
For the Love of a Child, The Gladney Story: 100 Years of Adoption in America, by Ruby Lee Piester. Eakin Press, Austin, Texas. 1987. Hardback edition with paper dust jacket
Great Houses of Texas, by Lisa Germany, with photographs by Grant Mudford. Abrams Publishing, New York. 2008. Hardback edition with paper dust jacket. Includes photos and descriptions of the Sid R. Bass and Anne H. Bass home by Paul Rudolph, 1970, and the Garland and Mollie Lasater home, 1997, by Lake/Flato in Fort Worth
Calendars
Old Friends: Great Texas Courthouses by Bill Morgan 1995
Old Friends: Great Texas Courthouses by Bill Morgan 1996
Historic Preservation Council for Tarrant County Calendar, 1990, a collection of original pen and ink drawings of Fort Worth houses and buildings, by English artists, Sara Harvey and Judy Talbot, produced by caprice Illustrations, in the United Kingdom of Great Britain, limited edition
Early scenes of Fort Worth by Higgins Printing Company, 1980
Kimbell Art Museum, Fort Worth, Texas, February-August 1988 
Kimbell Art Museum, Fort Worth, Texas, March-August 2000
Kimbell Art Museum, Fort Worth, Texas, February-August 2012
Amon Carter Museum of American Art Program, Fort Worth, Texas, Beginning with 1990 issue and continuing to September 1999; February 2000 issue; August 2012-January 2013
Magazines and Journals
AURA of Fort Worth, November/December 1987. Volume III, No. 6. Publisher, Bill Lourcey. Magazine. Cover shows Ralph Scott helping Jeri Ballard into carriage, where Deborah Beggs Moncrief waits. Unknown driver from Cartwright Stables, Benbrook. Thistle Hills was Designer's Showhouse that year
Corral, Junior League of Fort Worth. Winter 1995. 100th centennial of Fort Worth Stock Show. Quarterly publication for members
Fort Worth, Texas The City's Magazine published by Mark Hulme monthly by Magnolia Media Group, Fort Worth

1998: December, Premiere Issue
1999: February, March, June, July, August
2000: January, August, September, December
2001: January, February, May, July, August
2002: January, February, June, August, September, October, November
2003: January, February, May, June, July, August, September, November, December
2004: February, March, April, May, June, August, October, November, December
2005: January, February, March, April, May, June, July, August, September,
October, November, December
2006: March, April, May, June, July, August, Fall, September, October, November
2007: January, February, March, April, May, June, July, August, September, October
2012: March, April, May, June July, August, September, October, November, December Issues
2012: Gary Patterson Commemorative Issue (September)
2013: January Issue

Legacies: A History Journal for Dallas and North Central Texas

2002: Spring
2003: Spring, Fall
2004: Spring, Fall
2005: Spring, Fall
2006: Fall
2007: Spring
2010: Fall

Official Visitor's Guide to Fort Worth, Vol. 1 No. 1, copyright 1997, Fort Worth Convention and Visitors Bureau
Preservation: The Magazine of the National Trust for Historic Preservation
Southwestern Historical Quarterly

2012: January Issue, v. CXV no. 3
2012: July Issue, v. CXVI no. 1
2012: October Issue, v. CXVI no. 2

Texas Highways: The Travel Magazine of Texas

2001: February, April, May, June, July, August, September, October, November, December
2002: January, February, March, May, November, December
2003: January
2004: May, August

Texas Journal of Ideas, History and Culture, Vol. 19 No.2, Spring/Summer 1997, published by Texas Council for the Humanities
Yearbooks
Horned Frog, Texas Christian University:
Trinity Valley School, Fort Worth:

1974
1975
1976
1977
1978
1979
1980
1981
1982
1983
1984

Yellow Jacket, Arlington Heights High School:
Maps and Posters
"Where Preservation Meant You Lived To Tell About It" poster for National Trust Annual Conference in Fort Worth, October 11-15, 1995. Scene of "A Dash For the Timber" by Frederic Remington, Amon Carter Museum
"Where the Fun is Coming at You in '86" poster for March and April produced by Fort Worth, Texas Sesquicentennial Commission
Walking Tour Maps of Fort Worth, 11, published by Downtown Fort Worth Inc., 1988
Marriage
Navarro County, Texas Marriage Records, Book A, 1846-1855. Compiled by J. McMinus. Sponsored by Frances T. Ingmire. 1985. Booklet
Microfilm, VHS, and DVD
First Light: Local Art and the Fort Worth Public Library, 1901-1961. A Centennial Exhibit, celebrating the 100th birthday of the Fort Worth Public Library. Copyright 2001 by the Fort Worth Public Library Foundation. Essays by Kelly Fearing, Cynthia Brants, David Dow, Donald Vogel, and Michael Grauer. Research for artists by Scott Grant Barker. Paperback.
Location: Microfilm cabinet, VCR drawer
Wall Street of the West, The Story of the Fort Worth Stockyards. Videocassette tape produced by the North Fort Worth Historical Society, 2001. Narrated by Barry Corbin. New West Screenworks. 60 minutes
History Detectives segment on Bonnie and Clyde Bullets. Public Broadcasting Service, shown in this area on July 15, 2003, Channel 13 KERA, recorded on a video cassette VHS
Texas Modern: The Story of the Fort Worth Circle, BOTWAS Productions, 2003. Art historian Scott Barker interviews with artist Cynthia Brants and his comments on various Fort Worth artists associated with this group. VHS
Making of the Modern Art Museum, Fort Worth, Texas. Documentary, VCR tape recorded from KERA program, Channel 13
Antique Maps of Texas Historic Maps of Texas and Indian Territory, 1834-1950 CD-ROM, Electric Books, Fort Worth, Texas 2001
Dallas/Fort Worth International Airport, PowerPoint presentation given to Tarrant County Historical Society. Compact disc
The Trinity Valley School Story, 2005, from Development Office of Trinity Valley School, compact disc
1890 Census Reconstruction, Tarrant County, Texas. Project Coordinators: Helen McKelvy Markgraf, Stephens, Rob Yoder. Fort Worth Genealogical Society. Copyright 2007. Compact Disc
"Travelers of the Mind, the Rise of the Fort Worth Circle, 1940-1955", presentation given by Scott Grant Barker, May 17, 2003, at the Fort Worth Museum of Modern Art
Mid Cities Genealogical Society Technology Workshop: Using Excel to Organize Your Research. April 14, 2007
Oral history tape untranscribed with Ethel Mae Jordan Bliss. Conducted March 7, 1991. Approximately 90 minutes. Interviewer: Susan Pritchett
Miscellaneous
Notecards packet: Tarrant County Courthouse - Fort Worth, Tex-Art Informal Notes, 14 notes, 10 envelopes, watercolor and pen and ink art by Carbone, date unknown
Notepad: Missouri-Kansas-Texas Railroad Company, County on Katy, late 1960's
Sector Planning material from 1981, Fort Worth and Arlington Heights
News
Amon Carter Museum news release of sculpture DIANA to be placed on long-term loan to the Bass Performance Hall
Photography
Two miniature pictures, copies of courthouse paintings, one of 1895 Tarrant County Courthouse
Snapshot photography of President John F. Kennedy and Jacqueline Kennedy, November 22, 1963, in Fort Worth, day of assassination in Dallas
Thirteen, 4 by 6 inches color snapshots of Tarrant County-owned buildings prior to their demolition in March 2001:

Hotel building at 208 E. Weatherford, white building to right is Ajax Glass Building
Hotel building at 208 E. Weatherford, Bass Tower Two can be seen behind
Hotel building at 208 E. Weatherford, small parking lot to east
Ajax Glass Building seen from E. Weatherford, looking southwest. County Administration is red brick building behind, both Bass Towers are visible to left and right
Ajax Glass Building and hotel seen from street corner E. Weatherford and Commerce
Ajax Glass Building and hotel seen from Courthouse southeast corner, Wallace Coin Co. on East 1st Street visible to left
Ajax Glass Building at 103 Commerce, used by County Extension Agent
Ajax Glass Building, 103-107 Commerce, parking lot to right, parking garage in rear is a Bass Building parking garage
South view of hotel, taken from parking lot at 1st and Commerce
South view of Ajax Glass Building and hotel, from parking lot at E. 1st and Commerce, courthouse tower behind, Civil Courts facade to far left
Eastern facade of hotel, taken from parking lot at E. 1st and Calhoun
Southern facades of Ajax Glass Building and hotel
Southern facade of hotel that fronts on 208 E Weatherford

Six color 4 by 6 inches photographs taken Friday, December 1, 2000 at Tarrant County Historical Commission meeting held in County Administration Building, Room 504-C:

Texas Hist6orical Commission director Larry Oaks with TCHC chairman Ron Wright, Secretary Lela Standifer on right
Larry Oaks making presentation on TCHC structure and goals, meeting was a luncheon meeting, Ron Wright and Lela Standifer to his right
TCHC members Byron Zirkle and Bill Brwer at meeting
TCHC members Susan Blick and Aubrey Anderson
TCHC members: Debbie Reynolds-Hazen, J'Nell Pate, Wallace Hutchison, Carol Williams, Aubrey Anderson, Carol Hensley, Glenn Day, Byron Zirkle, Betty Fuller, Art Weinman
TCHC members: Aubrey Anderson, J'Nell Pate, Charles Stamps, Wallace Hutcison, Larry Oaks, Ron Wright, Lela Standifer, Susan Blick, Glenn, Day, and Carol Hensley

Color snapshots taken by donor. 4 by 6 inches color
William P. Bomar, general manager of Bewley Mills, Fort Worth. 8 by 10 inches Photo proof, Kaiden Studios Inc. New York. No date, c. 1930's
Tarrant County Day at Ranger Stadium, from left to right: G. K. Maenius, Tom Wilder, Betsy Price, Gary Fickes, Marti van Ravenswaay, Roy Brooks, B. Glen Whitley, two representatives from Texas Rangers baseball. 8 by 10 inches and 4 by 6 inches color prints taken by Billy Joe Gabriel, June 19, 2008
Photos from Quanah Parker historical marker dedication in Fort Worth Stock-yards, March 15, 2008. All photographs taken by Billy Joe Gabriel. All are 4 by 6 inches color prints. Judge Steve M. King, Probate Court No. 1 by marker
Clara Ruddell, marker chairman of Tarrant County Historical Commission
Rick Selcer, author of marker narrative
Cindy Wilson-Arrick, Tarrant County Historical Commission chairman
Ben Tahmakera, descendant of Quanah Parker
Marker next to sculpture by Jack Bryant of Quanah Parker, Comanche chief
Fort Worth Councilman Jim Lane with son, and Bob Holmes and Clara Ruddell, TCHC members
Five 4 by 6 inches color photographs taken of Democrat presidential candidate Barack Obama at appearance at Fort Worth Convention Center, February 28, 2008 prior to party primary election
Five 4 by 6 inches color photographs taken of Democrat presidential candidate Hillary Clinton in Fort Worth Stockyards, March 1, 2008. Obama and Clinton photographs taken by Billy Joe Gabriel
Three 4 by 6 inches color photographs of Charles Williams sculptures taken on tour of Karl Williams home on Fort Worth east side
Billy W. Sills, Center for Archives. FWISD. Open House for archives. November 13, 2003
Billy Sills's son on right
Leon Mitchell, administrator of archives
Walter Dansby and Leon Mitchell
Pioneer teacher with school children in period dress, standing in "old classroom"
"Old classroom" with slates and McGuffy readers on desks.
Re-naming ceremony for U. S. Courthouse in Fort Worth, November 14, 2003. Ceremony took place in Lanham Federal Building. Plaque that will be placed on exterior of building being named for Federal Judge Eldon B. Mahon
Singer of National Anthem
Representative Kay Granger giving remarks on Judge Mahon
Judge Eldon Mahon
Nova Mahon, Judge's wife
Re-dedication of Birdville Baptist Church marker upon the 150th anniversary of the congregation. November 9, 2003. Two covered markers
Birdville Baptist Church marker
West Fork Baptist Association marker after unveiling with pastor on right and members of congregation
West Fork Baptist Association marker
members standing by marker
Members standing by markers
Jary Award Presentation in Commissioners Court, October 14, 2003. Helen Markgraf, Dorothy Rencurrrel, and Rob Yoder holding their awards
Jary Award winner Clay Perkins standing with Dorothy Rencurrel in Commissioners Court chambers
Clay Perkins signing copies of his book on the fort, with Lesbia W. Roberts, Rob Yoder, and Helen Markgraf standing behind. Gary Whitfield and Art Weinman in Background
Red Steagall Chuck Wagon Parade on Fort Worth's Main Street, October 17, 2003. At 1st and Main, with Worthington Hotel in background
Wagons at 1st and Main, Burk Burnett Building, Worthington Hotel in back
Wagons turning in front of 1895 Courthouse
Wagons passing Horse Fountain on Courthouse Square
Cowboy on lawn of Administration Building, 100 E. Weatherford
Clean up Crew on Main Street
Postcards
St. Mary of the Assumption Church and Rectory, car dates photograph at 1957 to 1959
St. Patrick's Co-Cathedral, 1206 South Throckmorton St., Fort Worth
Aerial view of St. Patrick Cathedral, Rectory and Educational Building
Interior of St. Patrick Cathedral, Fort Worth
First Methodist Church, Fort Worth
Old Courthouse and St. Patrick's Cathedral, Art Impressions of Fort Worth by Dick maw, published by Lionheart Galleries, Fort Worth, date unknown
Forest Park, Fort Worth, dated August 14, 1913
Picnic Day at Lake Erie, Fort Worth, Texas. no date
Two schools: North Side High School; Arlington Heights High School Fort Worth, Texas, Atlas News Shop, Fort Worth, no date but from 1930's
Triple XXX Restaurant and Drive Inn, showing May 1949 flood effect on W. 7th Street. Message dated June 16, 1949
Rodeo
Cowboys of Color Invitational Rodeo, 2001 Southwest Tour. Souvenir Program
Stamps
Fifteen stamp series of commemorative stamps celebrating 1900s
Fifteen stamp series of commemorative stamps celebrating 1910s
Transportation
Fort Worth Transportation Authority: material gathered from several local projects in which the donor took part

Intermodal Transportation Center-Designs
Intermodal Transportation center-Mural Criteria
Correspondence to Mural Review Committee
Final Review of Candidates for 9th Street site mural
Site Visit Information
Loose leaf binder with vita of all candidates who submitted mural proposals

City of Fort Worth Timeline Project

Meeting notices and project guidelines
timeline source materials
working timelines
Wars
Civil War

Confederate Officers of Texas

Confederate Officers of Texas, Part 1: Alphabetical List of Commanding Officers; Part 2: Alphabetical List of Texas Counties. Compiled by Frances T. Ingmire. Mountain Press, Signal Mountain, Tennessee. 1983. Booklet