Westbrook Hotel Collection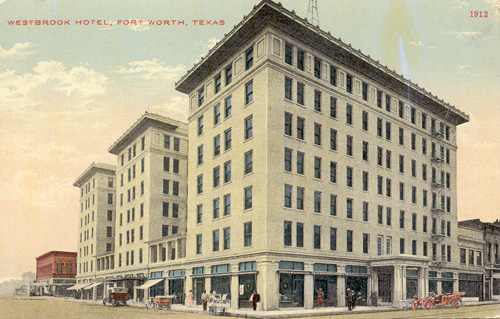 Summary: The Fort Worth block between Main, Houston, 3rd and 4th Streets now famous for the Chisholm Trail mural was the site of a hotel for more than 100 years. In 1877, the El Paso Hotel (C. K. Fairfax, Proprietor; Fort Worth City Hotel Company, owner) opened its doors; in 1885, the Pickwick (J. M. Huffington); in 1895 the Delaware Hotel (M. C. Hurley). The Tillar family under the direction of Benjamin Johnston Tillar (1866 - 1923) purchased much of this block, including the Delaware in 1898, tore down the old hotel by 1909, and in 1910, built the Westbrook, which was imploded in 1978. For photographs of the 1978 implosion, see the Christie L. Smith Collection.
J. T. Westbrook Tillar (1833 - 1908), Ben's father, was both the source of the financing as well as the source of the name for the Westbrook Hotel.  The Westbrook Hotel Collection, which was researched and organized by J.P. Barentine III documents the Tillar family financial history and the management and daily financing of the hotel. The 240 linear foot collection contains the records, legal papers, accounts and corporate minutes such enterprises would generate. It also contains personal information concerning the Tillar family and their employees. The collection contains five general categories: Banker Boxes, Record Books, Ledgers, Weekly Guest Bills and Miscellaneous Items.
An extensive Finding Aid for the Westbrook Hotel Collection is available upon request which offers a more detailed description of the collection with color images. Please credit: Tarrant County Archives, Westbrook Hotel Collection when used. To see the Westbrook as part of the 1911 Fort Worth skyline just after the hotel was completed, visit the Tarrant County Archives Stamps Collection.