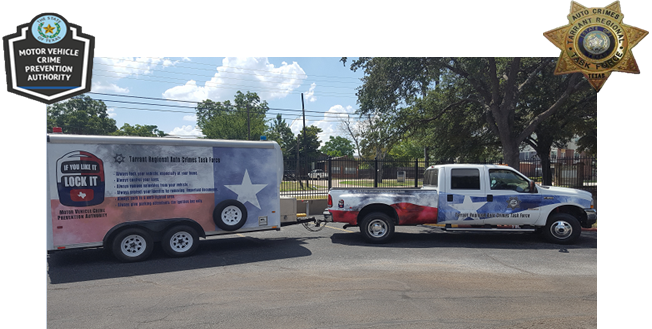 The Tarrant Regional Auto Crimes Task Force began in 1993 and was created to combat motor vehicle theft. Over the years, the mission and scope of the task force has changed to include burglary of motor vehicles, the theft of parts and various forms of vehicle fraud that negatively affect Texas consumers. Since its inception, the task force has proven effective in reducing motor vehicle crime rates and has been recognized at the state and national level for its successes. The task force receives a portion of its funding from the Texas Motor Vehicle Crime Prevention Authority (MVCPA), a division of the Texas Department of Motor Vehicles (TXDMV). It is comprised of investigators from 14 state and local agencies operating under the umbrella of the Tarrant County Sheriff's Office. Task force investigators are assigned from the Tarrant County Sheriff's Office, Parker County Sheriff's Office, Arlington Police Department, Euless Police Department, Fort Worth Police Department, Grapevine Police Department, Haltom City Police Department, Hurst Police Department, Lake Worth Police Department, Weatherford Police Department, White Settlement Police Department, Wise County Sheriff's Office, the TXDMV and the National Insurance Crime Bureau (NICB). The task force also benefits from a dedicated assistant criminal district attorney assigned from the Tarrant County District Attorney's Office. Governed by a Board of Governors comprised of participating agency heads, the task force serves a seven-county program area (Tarrant, Parker, Wise, Hood, Palo Pinto, Somervell and Jack) encompassing approximately 2.4 million people.
The task force serves as a force-multiplier for agencies within the task force's program area by conducting field operations, criminal investigations, law enforcement training, intelligence gathering/dissemination, prevention programs and citizen education efforts. Operations concentrate on large-dollar losses, multi-jurisdictional investigations and organized criminal rings. Investigators specialize in vehicle identification, assisting in the investigation of complex criminal schemes as well as state-mandated inspections for Texas consumers for titling purposes. The task force routinely inspects businesses such as repair shops, dealerships, salvage yards and recycling entities to identify and investigate illicit activities. Prevention and education efforts include VIN-etching, educational presentations, participation in community events and coordinating the dissemination of public information through local media outlets. Embedded investigators from the TXDMV allows the unit to address both administrative and criminal violations involving motor vehicle sales. The task force's partnership with the NICB provides for additional resources and expertise, both investigative and technical, as well as access to a network of agents and professional staff who possess both state and national reach.

For prevention requests or inquiries contact the unit at 817-560-6560.