The north Texas region's Ozone Season runs March through October and represents the time the Tarrant County area normally see the highest levels of ozone.

Ozone Action Day forecasts are typically available one day in advance of predicted high ozone levels. Our region's air quality maps and forecast are available at the North Central Texas Council of Governments website.

Take these steps to help reduce ozone formation:
Carpool, walk or use public transportation
Limit driving and idling
Tune and properly maintain all gas engines
Refuel in late afternoon
Take these steps to protect your health when ozone levels are elevated:
Children, older adults and people with lung disease, such as asthma, emphysema, or chronic bronchitis should limit outdoor activity if ozone reaches Level Orange.
If ozone reaches Level Red, Children, older adults and people with lung disease, such as asthma, emphysema, or chronic bronchitis, should avoid outdoor activity. All other people should limit prolonged outdoor exertion if ozone reaches Level Red.
The federal Clean Air Act focuses on improving health outcomes by regulating six common air pollutants, also known as criteria pollutants. They are:
particulate matter
ground-level ozone
carbon monoxide
sulfur oxides
nitrogen oxides
lead
These pollutants can harm your health, can harm the environment, and can cause property damage. Of the six pollutants, particle pollution and ground-level ozone are the most widespread health threats.
The DFW Metroplex primarily has problems with ground-level ozone or smog build up. Currently, the DFW Metroplex is designated a "Moderate Nonattainment Area" for the eight-hour ozone standard.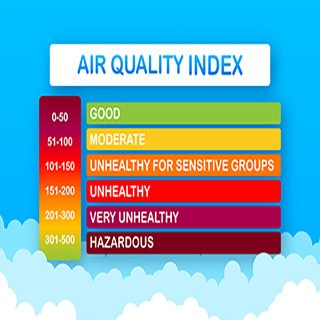 Ozone that develops at ground-level is created by a chemical reaction between emissions and weather conditions. The emissions contain volatile organic compounds and nitrogen oxides that are combined with sunlight to produce the ozone. The combined emissions "bake" in sunlight four - six hours before converting to ozone gas. Ground-level ozone is the primary component of urban smog.
In the DFW Metroplex, the primary source of ozone generating emissions comes from automobiles we use every day for commutes to work, school or trips to the local market.
| | | |
| --- | --- | --- |
|  Type of Source     |  Generator of Emissions | Percent of Total Emissions    |
|  Mobile | cars, trucks, airplanes, boats, trains & off road equipment      |  56 |
|  Area | small engines, paints, solvents & flammable liquids |  32 |
|  Stationary |  industry |  12 |
Additionally, pollutants like tiny airborne particles and ground-level ozone can trigger respiratory problems, especially for people with asthma. Today, nearly 30 million adults and children in the United States have been diagnosed with asthma. Asthma sufferers can be severely affected by air pollution.
Air pollution can also aggravate health problems for the elderly and others with heart or respiratory diseases. Air pollution can significantly impact those with respiratory illness and lead to lost days at work and school absenteeism.
Controlling these ozone pollution precursors will help improve our region's air quality and the overall health of our citizens.