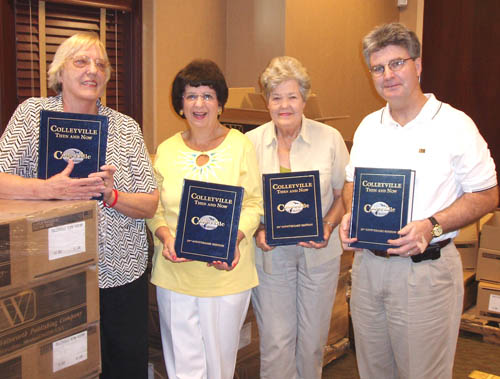 Above: Co-Editors, Lila Coley and Pat Fox, along with committee member, Frances Fitzgerald, take delivery of Colleyville Then and Now from publishing representative, Neil Kimbell.
Summary: Various documents and publications produced by the City of Colleyville. 
Community Appraisal Survey taken by the City of Colleyville in 1979.  The study gives a brief history of Colleyville, the methodology of the study, and the results. Results describe the residents of Colleyville and what essential services are needed in terms of community development and capital improvement, 72 pages.
Book: Colleyville Then and Now (2006) Fiftieth Anniversary of Incorporation Colleyville Historical Preservation Committee  Copyright held by the City of Colleyville. Printed by Wadsworth Publishing Company. Produced by NK Associates. Hard back. Historical Preservation Committee, Book Committee: Joe Deupree, chairman. Lila Coley, Pat Fox, Frances Fitzgerald, John Gray, Ed Havran, Pat Jones, Molly Munson, Linda Newton, Susan Taylor, Tommy Taylor, and Carol Wollin.