Judge Steven M. King Collection
Summary: Tarrant County Probate Judge Steve King donated articles, probate cases, books and photographs.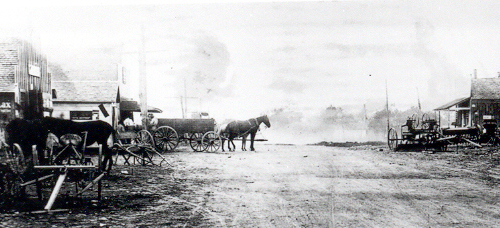 Articles
"History of Fort Jesup" by D.C. Westbrook, six pages copied from a publication of North Louisiana Historical Association, Vol. 7-9, 1966-69, pages 22-27
"De Artilleria de Montana, de Nuevo Sistema" by Macario Villegas, 14-page report on the design, operation and results of a cannon, published in Mexico at the request of Filomeno Mata, 1877
"The Old Rough and Ready Almanac," 1849, reprint of woodcut, illustrations of various battles from the Mexican War. Originally published by Turner and Fisher, publishers, Philadelphia, illustrations of cannon used at Fort Worth
"Saving the Courthouse" by Barrie Scardino, essay on restoring Wharton County Courthouse built in 1889, renovated to Art Deco in 1935, back to its Victorian facade, originally designed by Eugene T. Heiner, The Architecture and Design Review of Houston, No. 48, Summer 2000, pages 40-45
Town and Country, November 1986, Vol. 140, No. 5078. Hearst Publications, page 221-231, 308-311: Fort Worth: The Worldly West, by Sandy Sheehy
"Fort Worth, Cattle, Culture, and Cash" Town and County, October 1972, by Dick Kagan. Pages 102-119. Lots of pages in advertising of Fort Worth people and places
O'Keefe family obituaries and news clippings: Joe T., J. David, 1942, and Mrs. C. A O'Keefe
Mrs. C. A. O'Keefe, obituary and news article about the sale of her home, 520 S. Summit
Builder is Pioneer in Texas Cattle Industry, October 6, 1929 about C. A. O'Keefe newspaper name is unknown
Bartholet family history, from Southern Queries, Vol. 5, No. 3, 1994, page 31
The Observer, March 30, 1978 (three copies) "Late game of tags drawing a restless mob to courthouse", by Whit Canning, page one, lower right
Demolition Started on Old O'Keefe Home, Summit Ave. Landmark, May 22, 1950 and O'Keefe Estate Sells 100 Sections for $445,000, April 7, 1947
Blackstone Hotel remodeling, September 28, 1980, news clipping and accompanying brochure


Books
Copies from selected pages from the book, The People's Architecture, Texas Courthouses, Jails, and Municipal Buildings, by Willard B. Robinson, published by Texas State Historical Association in cooperation with the Center for Studies in Texas History, University of Texas at Arlington
Photocopy of book, Early Days of Fort Worth, Reminiscences by Capt. J.C. Terrell
Courthouse tour book, The Tarrant County Courthouse, A Self-Guided Walking Tour by Steve M. King, Judge, Tarrant County Probate Court No. 1, published 1995
Fifty Years Under the Bench in Texas, Stories, Anecdotes, and Experiences from the Courtroom by Jim Feagin, The Naylor Company, San Antonio, Texas, copyright 1950, machine copy of book
Bench and Bar of Tarrant County Texas 1929, photographs by Lewis Kerr, published by N.R. Campbell, 25 1/2 by 22 inches
Texas Legal Directory, Official Directory of the State Bar of Texas, 1986, Legal Directories Publishing Companies Inc. 2122 Kidwell Street, P.O. Box 140200, Dallas, Texas 75214-0200. William Brown, President. Three Volumes. Hard back
When Texas Came Romping into the Union, Tracing its Footsteps Before and After, by Robert Emmett Pellow. J. E. Porter Company, Waco, Texas. 1935, Timeline of Texas events, short history of War for Texas Independence, and map of State showing various trails and expedition routes
"Blackstone Hotel a sleeping beauty" by Orville Hancock, Fort Worth Star-Telegram, July 11, 1984
"Bleak days for Blackstone" by Orville Hancock, Fort Worth Star-Telegram,
July 10, 1984
Who Owns the Block, section one of The Business Press, Published in 1989 from previous article published weekly in 1988, 44 pages giving ownership of blocks in the Central Business District
Photocopy of Nolan Henry Havens notebook containing diary, letters and images related to early-20th Century Fort Worth, including old Randol Mill and the Havens, McNeil, Padgett and Prickett families
Machine copy of "Hair on Fire" manuscript (372 pages) by Wayne J. Pate
 
Court Records
Gretchen B. Denny, et al. v. Unknown Stockholders of the K. M. Van Zandt Land Company Probate Court No. 1, Tarrant County, Steve M. King, Judge, 1997
 
Miscellaneous
Copies of drawings by local artist William B. Potter of his interpretation of the military fort, Fort Worth
Cover letter from David C. Bucek Jr., to Judge Steve King, explaining the enclosed research on architect Eugene T. Heiner, in an application for a Texas Historical marker for Heiner, written by Heiner descendant, Cathey Searls Johnson Mahony
Tarrant County College Campus Plan, Trinity River Campus, Bing Thom Architects and Gideon Toal, January 19, 2007, 27 pages giving footprint views, individual building plans, side elevations, and landscape plans. These plans relate to the Uptown plan for the bluffs on the eastern side of Paddock Viaduct to be bridged with parking facilities on the north side of the West Fork of the Trinity River
Chisholm Trail Round-Up Papers - Correspondence, meeting minutes and agendas, pamphlets, contact lists, financial records, articles of incorporations and bylaws, memos, and promotionial materials.
National Archives (NARA) Cultural District Project Papers - Preliminary site plans and aerial photography maps related to creation of Southwest Regional Archives in Fort Worth. Judge King worked on this project between 1999-2007 which did not reach fruition.
Photographs
Birdville, Texas, Monday, September 23, Great Eastern Exposition, Buffalo Bill Cody and Pawnee Bill's Wild West Show, date unknown (image shown above)
Justice of the Peace Judge Dave Shannon (far right) Precinct 1 Place 1 Courtroom in the 1895 Courthouse basement, 1923 (image shown)
Programs
Greater Fort Worth International Airport Amon Carter Field Official Opening, April 24-26, 1953