Donna and David Matney Collection, [1870]-1966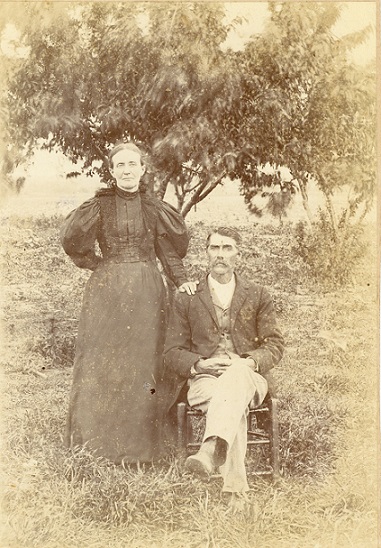 Pictured: S.L. Reese and wife, [ca. 1890-1900]

Summary: Donated by Donna Matney.  
This collection contains photographs, scrapbooks and cabinet cards from Fort Worth and other Texas communities. Some items relate to military service and include World War II ration books. Some materials relate to businesses in Fort Worth, such as Swift and Company, Meacham's Department Store, Bachrach/Gittings Studio Photography and Scott Awning Company. Items within this collection date from approximately the 1870s to 1987.
Bracketed dates are approximated.


Scope and Contents

This collection contains three series: Photographs; Personal and Military Records and Ephemera; and Scrapbooks, Oversized Cabinet Cards and Portraits. The Photographs series contains studio portraits and snapshots, many of which are unidentified.  Images listed within the Texas Cities Photographs are organized alphabetically based on written notes or printer stamp on the reverse of the photographs. Some images may be of places other than that of the printer stamp on the back. The Personal and Military Records and Ephemera series contains military correspondence, war ration books and a U.S. Air Force roster. This series also contains ephemera from Fort Worth and Texas. The Scrapbooks, Oversized Cabinet Cards and Portraits series contains three scrapbooks, seven large cabinet cards, one portrait and an artistic rendering of a couple. View the Donna and David Matney image gallery of photographs.


Subject Terms
Places (all cities/counties in Texas unless otherwise noted)
Baileyville
Bowie
Bremond
Brenham
Cameron
Cisco
Cleburne
Corpus Christi
Dallas
DeLeon
Del Rio
Ellis County
El Paso
Ennis
Fayetteville, Arkansas
Fort Worth
Fredericksburg
Gainesville
Galveston
Granbury
Greenbay School, Highland Park, Illinois
Greenville
Handley
Hico
Hillsboro
Hood
Itasca [Itaska]
Houston
Kent
Lockney
Lubbock
Mineral Wells
McKinney
Odessa
Palestine
Petula [Petulia]
San Antonio
Swisher County
Texarkana
Waco
West
Will Rogers Shrine of the Sun, Colorado Springs, Colorado
Persons

Bray, Glen Dale
Craine, Kenneth
Edwards Family
Garriott, Bob
Garriott, Jessie
Gree, Lillie (Tillie)
Hook family
Horsman family (Lelia Horsman, possibly of Oklahoma)
Johnson, Eddie Ray
Kinsley, Blanche [Lane]
Linn, Gertie
Linn, Joe
Linn Sr., Chester
Long Family
McKee family
Robinson family
Rowland, Frank J. and Lorene
Stewart. John H. "Jack" and Mercedes
Watson, William "Bill"
Wiley, Harry Fulton and Llewellyn
Wilson, Don / James D.

Subjects

Bachrach / Gittings Studio
Civilian Conservation Corp (CCC) at Camp Maydelle, Texas
E. M. Daggett School
Female Athletes in Ennis, Texas
First Methodist Episcopal Church
Frank J. Rowland Watch and Clock Maker
General Dynamics
Meacham's Department Store Ephemera
Monnig's Department Store Ephemera
Nolan High School
Order of Railway Conductors of Texas
Sam Rosen Elementary
Scott Awning Company Ephemera
Swift and Company Pension
World War I
World War II


Items in the Collection
Photographs:
Actors, undated [ca. 1905-1920]
Miscellaneous Unidentified, undated, 1935, 1948
Miscellaneous Unidentified Cabinet Cards, undated, [ca. 1870s-1910s, 1940s]
Outside of Texas, undated, 1935
Scene at Civilian Conservation Corps (CCC) Camp, Maydelle, Texas, [ca. 1933-1937]
Texas Cities—B, undated, 1921
Texas Cities—C, undated, 1935
Texas Cities—D, undated, 1919, 1938
Texas Cities—E-F, undated, [ca. 1890s-1930s]
Texas Cities—Fort Worth, undated, [ca. 1870s-1910s], 1912, [ca. 1920s-1940s], 1948, 1960
Texas Cities—Fort Worth—Bachrach/Gittings Studio, [ca. 1920-1960s]
Texas Cites—Fort Worth—E. M. Daggett School, 1944
Texas Cities—G, undated, [ca. 1890-1910]
Texas Cities—H-I, undated, [ca.1900-1930], 1931
Texas Cities—K-P, undated, [ca. 1904-1918], 1906, 1912, 1914, 1928, [ca.1950s]
Texas Cities—S-T, undated, [ca.1890s-1910s], 1926, 1935, 1942, 1947, [ca. 1940s-1950s]
Texas Cities—W, undated, 1925
Texas Cities—Waco—Robinson and McKee families, [ca. 1880-1910]
Unknown Location—With Names/Some Identification, undated, [ca. 1880-1910], [ca.1904-1918], 1917, [1918-1930], 1921, 1922, [1927-1940], 1934, 1936
Unknown—School Teacher, 1930, [ca.1930s]
Unknown—Women and Swing, undated, 1913
World War II / Military-related, undated, 1944
Personal and Military Records and Ephemera:
Baby Book—Deborah Germaine Moore (possibly Fort Worth), 1949
Books—The History of the A&M College Trouble, 1908; Lengthening Shadows, [ca. 1948]
Correspondence - Leonard, R. H., 1931, 1936

Correspondence - Monning (Handley, TX), 1912

Euless—Euless High School Diploma and Memory Book—John Barton Hurt, 1947
Exercise and Dictation Book "Jolly Times" belonged to Margaret Jordan, 1918
Fort Worth—Grady Brown Daybook—Produce Department—Receiving, 1919-1920
Green, Lillie (Tillie) - Correspondence and Personal Documents, 1958-1960, 1963-1965
Johnson, Eddie Ray - Correspondence, 1951, 1955, 1962
Long Family - Correspondence and Ephemera, undated, 1918, 1946, 1948

Fort Worth—Military Cap—Veterans of World War I, undated
Fort Worth -- Miscellaneous Correspondence, undated, 1953, 1958, circa 1970s

Fort Worth—Miscellaneous Ephemera and Receipts, undated, 1927, 1940, 1944, 1946, 1948, 1954-1955, 1960-1961, 1967
Ephemera, undated, 1941, 1950-1951, 1955-1956
Fort Worth -- Postcards (subject or address), undated, 1944, 1959-1960, 1962-1963, 1967-1968

Fort Worth—Premium Receipt Books and Insurance Policies—Hazel Austin, 1919, 1926, 1927, 1931
Stewart, John H. (Jack) and Mercedes, undated, 1965-1967, 1969

Fort Worth—Tax Records and Deed—Ed Freeman/W. A. Duringer, undated, 1943-1948
Fort Worth—Texas Christian University—Ephemera, 1931, 1987
Fort Worth—Title Insurance—Jack and Margaret Orren, 1948
Wiley, Harry Fulton and Llewellyn, undated, 1968

Fort Worth—World War II Ration books and  Military Correspondence, 1942-1944, 1966
Edwards Family - Lewis Edwards, 1942-1953, 1955

Edwards Family - Mary, Eddie, and Robert Edwards, 1918, 1938-1939, 1942

Edwards Family - Oscar Edwards, undated, 1934-1935, 1942, 1944
Publications - Brand Name Recipe Booklets for KARO syrup, A1 Sauce, and Gerber, undated, 1937, 1963
Publication - Twenty-first Biennial Session of State Legislative Committee - Order of Railway Conductors of Texas, held in Waco, April 22-24, 1936 (includes names of Fort Worth people)
Texas (Non-Tarrant County) - Correspondence - Watson, William (Bill), undated, 1950-1951, 1956

Texas (Non-Tarrant County)—Ephemera and Travel Literature, undated, 1912, 1924, 1934, 1938, 1943, 1970, 1978, 1981, 1987
Texas (Non-Tarrant County)—Insurance and Land Records, Ephemera, undated, 1904, 1907/1908, 1917, 1926-1929, 1940, 1953
Texas (Non-Tarrant County)—Iotex Oil Corporation vs. W. J. Collins, et al—Agreement, 1933
Texas (Not Tarrant County subjects or addresses) - Postcards and other Correspondence, undated, 1901, 1944, 1957, 1963, 1982
Wilson, Don / James D., 1946-1947, 1949

Outside Texas—Ninth U.S. Air Force Roster of Officers, 1943
Miscellaneous Correspondence, undated

Scrapbooks, Oversized Cabinet Cards and Portraits:
"Girls Athletics Annual" Scrapbook, Ennis, Texas, [not scanned into NAS], [ca. 1910-1930]
Small Black Scrapbook [scanned into NAS], undated, 1938 [Includes photos of Frank J. Rowland, Lorene Rowland]
Disassembled Scrapbook [scanned into NAS], 1945-1959 [Includes photos of Horsman family]
Sketch/Painting of Unknown Couple, undated
Portrait of Man, [ca. late-1940s-1950s]
[Women], 1512 Lee Avenue, July 20, 1911
[Family Portrait –same family as "Women, 1512 Lee Avenue"], undated
"Hazel Garner", Large Cabinet Card Portrait of Woman, undated
[Family Portrait] in Miami by McDougal, December 29, 1892
Large Cabinet Card Photograph of Group of Men at Stairs, [ca. 1930s-1940s]
Large Cabinet Card Family Photograph, nine people [likely same family as Small Black Scrapbook], two copies, undated
Large Cabinet Card Family Photograph, 36 people [likely same family as Small Black Scrapbook], undated
Subject Files:
Aviation -- Industry - General Dynamics - "News"

General Dynamic News, Fort Worth Edition, Vol. 18, No. 12, June 9, 1965

Churches -- Methodist - Fort Worth - First Methodist Episcopal Church South

First Methodist Episcopal Church South, small booklet with image of church showing through small window of folder surrounding a page with prayers.

Civic Organizations--Rotary--Rotary Rotagraph


   Rotagraph, November 14, 1947


Education -- Private Schools - Nolan High School

Nolan High School Announcements and Receipts, 1968

Railroads--General

Order of Railway Conductors of Texas State Legislative Committee Program, April 17 to 19, 1934
Addendum: