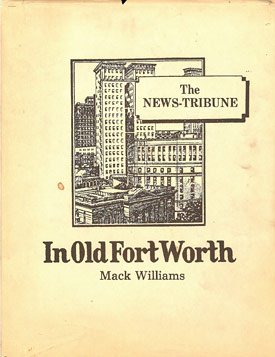 Summary: Donor is a longtime resident of Fort Worth and mother of longtime Archives supporter and historian -- Judge Quentin McGown. The Fort Worth News-Tribune was founded as a weekly in 1969 as the News-Tribune in Haltom City. It was purchased from owners Ione Whiteman and Wallace Sheppard in August 1970 by journalists Mack H. and Madeline C. Williams. Mack and Madeline Williams owned and published the newspaper from August 1970 until February 1986, when it was sold to Fort Worth Publishing Inc., owned by public relations professionals Linda Pavlik and James Lattimore Jr. This collection reflects the years the paper was owned and run by Mack and Madeline Williams.

Laura McGown has contributed materials to the Fort Worth Boat Club McGown Family Collection.
 
Newspapers
Fort Worth News-Tribune, various issues dating from 1980 through 1986
Fort Worth Star-Telegram articles related to the moon landing and the Cullen Davis trial
Books and Yearbooks
In Old Fort Worth by Mack Williams published by the Fort Worth News Tribune Mack H. and Madeline C. Williams, editors, 1977
Paschal Panther Yearbooks, 1948, 1949, 1950
University of Texas Cactus Yearbooks, 1953, 1954
Digital Images
Armour and Swift Plaza marker dedication and John Sandifer (her father), 1984
John Sandifer at Swift Company Research Laboratory, 1947

Pencil drawing of G. Quentin McGown III
Booklet
First National Bank Texas Sculpture Booklet, scanned (original returned)
Scrapbook
Marriage Announcements, 1950s-1970s
Follow link to digitized Laura McGown Collection Scrapbooks.