Howard H. McPeak Collection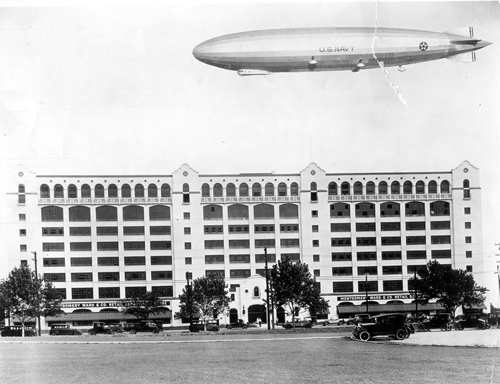 Summary: Donated books, catalogs, maps, photographs, magazines, information and photographs related to Montgomery Ward's. Donor was a long-time display manager for Montgomery Ward store on West Seventh Street in Fort Worth.
View the Howard H. McPeak image gallery.

Ward's Publications, Plans, Correspondence, and Newspaper Clippings
Montgomery Ward Catalog: Collector's Edition, 1922
Montgomery Ward Catalog: Century Edition, 1872-1972
Forward publications, 1923-1924 and 1925-1926
Company Report on the effects of the May 17, 1949 flood with photographs, estimates of department stock damaged, monetary value, and results from sale of damaged goods for salvage
Plans of Montgomery Ward building August 8, 1955, drawn by H. H. McPeak on occasion for addition to building on east wing
Correspondence from and to Howard McPeak concerning requests for loans of Montgomery Ward memorabilia
Newspaper clippings concerning the May 17, 1949 flood
Books, Booklets, and Pamphlets

The Fort Worth Club: A Centennial Story by Irvin Farman, 1985
Booklet: "Brave Men and Cold Steel: A History of Range Detective and Their Peacemakers," published by the Texas and Southwestern Cattle Raisers Foundation, 1984
Booklet: "Texas and Southwestern Raisers Foundation"
Booklet: "The Legacy Fund"
Assorted pamphlets from Jack Williams Chevrolet
Shopping center - Seminary South Town Center
Lure of the Land,  Texas County Maps and the history of Settlement by Joe B. Frantz and Mike Cox, edited by Roger A Griffin with a foreword by Garry Mauro, published for the Texas General Land Office by Texas A&M press, College Station
A Twentieth Century History and Biographical Record of north and West Texas by Capt. B. B. Paddock, editor, illustrated volumes I and II, The Lewis Publishing Company, Chicago, New York, 1906
Famous Trees of Texas, 3rd edition, 1984, John A. Haislet, editor; published by Texas Forest Service, A Part of the Texas A&M University System
Booklet: "Greater Fort Worth 1907 The gateway to the Great State of Texas," pictures of Fort Worth Buildings
Booklet: "Those daring young Men: A History of the Automobile Pioneers in Fort Worth 1902-1940" by Michael Collins, Ph. D., published in 1985 by Frank D. Kent, produced by the Fort Worth News-Tribune
Magazines

Time, July 25, 1969, story "Man on the Moon"
Time, July 18, 1969, story "To the Moon"
Maps

"New Map of Texas with the Contiguous American and Mexican States" by J.H. Young, Philadelphia: Published by Augustus Mitchell, 1837
"Sesquicentennial Map of Texas" drawn and designed by Richard Alan Hubbard, published April 21, 1985, by John Davis
"Sesquicentennial Map of Texas showing Battles of the Texas Revolution," compiled by John Davis, drawn and edited by Richard Alan Hubbard, Texas Sesquicentennial Press, 1984
Ward's Photographs

Thirty-seven black and white, 8 by 10 inch photos taken during 1928, the year of construction and opening, photographs were taken by C. L. Wilson, commercial photographer.

Preliminary construction site being cleared, February 4, 1928
Forms for first floor on west wing up, February 25, 1928
Forms ready to pour concrete for second floor, west wing, March 3, 1928
Forms for fourth and fifth floor being readied, west wing, April 7, 1928
View from east wing looking southwest, sixth floor being begun, no date
View from east wing, sixth floor poured, seventh floor beginning, May 3, 1928
View from north looking into space for rail line between two wings, July 27, 1928
View from north showing steel supports for train shed, August 11, 1928
View from southwest at finished building, September 1, 1928
View from west showing building with signs up, being readied for opening September 9, 1928
View from north showing steel trusses for rail shed, September 1, 1928
Night time view before opening, September 1928
Bronze Building Plaque over time capsule
Front entrance lobby with fish ponds and Romeo and Juliet balcony, no date
View from east wing rear showing completed building, September 15, 1928
View from roof of train shed looking north showing enclosed walkways
View from east wing rooftop looking west, showing smokestack, freight elevator penthouse, flags flying on south side
North dock with roll-up overhead doors for box cars, downtown seen on left
South east corner of building, catalog sales area
Completed front entrance
Crowd waiting outside on opening day
Soda fountain on east wall of first floor, west wing
Fabric department, first floor, west wing
Tire, auto parts, tools, and yard supplies, first floor, west wing, north wall
Bicycle shop, men's hats to right rear, rifles on racks behind bicycles
Furniture Department, second floor
Window display of furniture, at southwest corner of building
Radio and phonograph display in window
Rug Department, second floor
Musical Instrument and Victrola department, second floor, west wing
Lamp department, second floor, west wing
Unvented radiant gas heaters, second floor
Cooking ranges: gas, kerosene and wood burning
Mail Order Offices, eight floor, looking north, from southeast corner of east wing
Mail order offices, eight floor, looking north from southwest corner of east wing
Stock boys on roller-skates
Montgomery Ward with dirigible, Los Angeles, returning from the Panama Canal Zone, September 1928 (image shown)
- 42.  Five negatives: photos number 2, 3, 4, 5, and 37

Twelve black and white photos, 8 by 10 inches, of staff at Fort Worth store, most unidentified
Ten people in front of map of district
Party scene at dinner tables, circa 1945, Maurice Petitfils Photographers
Typing Unit, Smith Photo Company, no date
Five people in front of district map: Gus Norman is identified as standing in rear center
Four women seated in front of bulletin board
Five people holding paychecks
Man in suit, woman with cowgirl hat presenting tickets to Southwestern Exposition Roundup Club to man at desk
Margaret Ann McMillian by cake at Swift's Camp on Lake Worth, 1952
Reception table at Swift's Camp on Lake Worth, 1952, Skeet Richardson Photo
People in line for refreshments at same party at Swifts Camp on Lake Worth, August 1, 1952. Skeet Richardson Photo
Reception scene, same party, with punch bowl on left, table with little girl, August 1, 1952. Skeet Richardson Photo
Stereo center display, car radios, no date
Nine photos, black and white, most 8 by 10 inches, all but one related to May 1949 flood and its effect on Montgomery Ward store on West 7th
Aerial view of flood from north east to south west, showing east wing of West 7th Street under water, Lancaster Bridge on left rear with Farrington Field in Center. Fort Worth Star-Telegram photo
North side of Montgomery Ward showing rail entrance under water, farm store with water to roof line. William Cameron (lumber) across West 7th under water, People in boats looking in windows of store. Fort Worth Star-Telegram photo, Photo torn along top left corner
West 7th Street after flood has receded, with merchandise pulled from store on lawn. Bob Abey Photo Co. (gas is .21 and .22 at service station) Safeway Store and Plantation Cafe' are up the street
Front entrance of flooded storefront with racks of clothes in yard, display windows are broken. Stamped on back: Skeet Richardson Photo, May 9, 1949
Aerial view of Farm Store and parking lot on west side, with debris from flood, Bob Abey Photo Co.
Interior of store in ladies clothing, showing display cases up-ended by flood. Fort Worth Star-Telegram photo
Bargain Room merchandise scattered from flood waters. Fort Worth Star-Telegram photo
Front lobby with elevators, showing flood damage. Acme News pictures, a division of NEA Service, Inc. 7 by 9 inches
Group photo of employees in front of retail store upon the re-modeling of building, they have removed the time capsule placed at entrance in 1928 and adding newer items of memorabilia.
Newspapers
Fort Worth Star-Telegram, July 21, 1969, headline "Man on the Moon"
Fort Worth Star-Telegram, July 24, 1969, headline "Apollo Makes Perfect Landing"
The New York Times, June 6, 1944, "Allied Armies Land in France in the Havre-Cherbourg Area; Great Invasion is Under Way"
National Geographic Maps

Indians of North America
Bird Migration in the Americas
the Shaping of a Continent
North America's Active West
Arkansas, Oklahoma, Louisiana, Texas
North America

Poster of Astronauts
Bell Helicopter/Textron edition, May 21, 1976. Fort Worth Star-Telegram
Big Party Begins, USA Birthday, July 4, 1976. Fort Worth Star-Telegram
Bicentennial Memory Book, Fort Worth News-Tribune. 1975
In Old Fort Worth, July 2, 3, 4, 1976. Fort Worth News-Tribune
Carter Becomes 39th president, January 20, 1977. Fort Worth Star-Telegram
Reagan is Shot, March 30, 1981. Fort Worth Star-Telegram
John Hinkley is Moved, March 31, 1981. Fort Worth Star-Telegram
Farewell, Fort Worth, May 30, 1975. Fort Worth Press
1995 All-Star Game, July 9, 1995. Fort Worth Star-Telegram
Kimbell Art Museum, October 1, 1972. Fort Worth Star-Telegram
A new moon at the Modern, December 8, 2002. Fort Worth Star-Telegram
Casa Grande, October 5, 2003. Fort Worth Star-telegram
Fort Worth 150, June 6, 1999. Fort Worth Star-Telegram
Show Stopper, August 20, 2004. Fort Worth Star-Telegram
Columbia is Lost, February 2, 2003. Fort Worth Star-Telegram
As Nation Mourns, Search Continues, February 3, 2003. Fort Worth Star-Telegram
NASA questions judgment on tiles, February 4, 2003. Fort Worth Star-Telegram
NASA hopes wing piece yields clues, February 8, 2003. Fort Worth Star-Telegram
Tarrant County 3-D, April 1, 2004. Fort Worth Star-Telegram
Inside the Texan, March 28, 2004. Fort Worth Star-Telegram
A new Star in Grapevine, April 2, 2004. Fort Worth Star-Telegram
Arts in Arlington, March 1982. Fort Worth Star-Telegram supplement
Foes on the run, Bush says, October 12, 2001. Fort Worth Star-Telegram
A Nation Remembers, September 11, 2001. Star-Telegram, September 8, 2002 bearing witness, September 7, 2003. Star-Telegram
We Will Never Forget, September 11, 2001. Star-Telegram, September 11, 2003
U.S. troops in the Middle East, March 14, 2003. Star-Telegram
Fort Worth Daily Gazette, August 26, 1884
Inside the White House, Our New First Lady, February 8, 1964. Saturday Evening Post
Memories of my Boyhood, Dwight D. Eisenhower, April 8, 1967. Saturday Evening Post
Photographs
Eight photographs of Seminary South / Town Center Shopping Center
5 by 7 inch black and white photograph of the tombstone of Ira and Abigail Harmon at the Harmon Cemetery in Tarrant County, Texas
Sam Houston Statue Dedication
Two souvenirs
Two copies of the Huntsville item, October 16, 1994
Four copies of dedication program
Pamphlet: Sam Houston Statue visitor center and gift shop
Pamphlet: The Sam Houston Trail