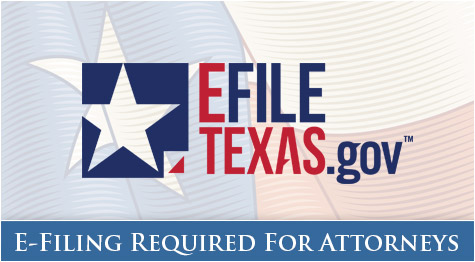 MANDATORY CIVIL E-FILING IN TARRANT COUNTY
*** Please See Notice Below Regarding the New eFile Reviewer Tool ***
In December 2012, the Texas Supreme Court mandated e-filing in civil matters. The first group of counties (Harris, Dallas, Tarrant, Bexar, Travis, Collin, Denton, El Paso, Hidalgo and Fort Bend), the Supreme Court, the Court of Criminal Appeals and the 14 Courts of Appeal become mandatory January 1, 2014. E-filing in all other counties will become mandatory on a graduated schedule through July 1, 2016.
This means that attorneys will no longer be able to file paper documents at the clerk's counter.  
Please see below for additional information:
Electronic File Service Provider Contact Information
Court Rules for E-Filing in the Tarrant County Probate Courts
E-file Reference Guide for New Case Filings
Pursuant to changes by the Judicial Committee on Information Technology, e-file options will change effective July 21, 2014.