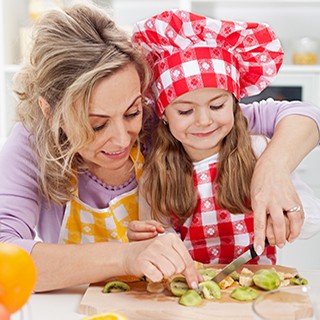 Childhood is the time between infancy and the teen years. The toddler years are from 12 months to 3-years-old. During the toddler years, the child becomes less dependent on his/her parents for basic needs. With this new found independence comes exploration and the desire to make their own choices. Early childhood is from 4 to 9-years-old.  During this stage, children learn through observation and by communicating with others.
Middle childhood begins around the age of 10.  This stage lasts until puberty begins, which typically marks the beginning of teen years.
During the childhood years a child will gain approximately five pounds and grow two to three inches every year.
Nutrition Concerns During Childhood: As parents it is our job to help our children develop healthy eating habits. Here are some tips to help during this process:
Children need set schedules. It is a good practice to offer them three meals and two to three snacks per day. 
Eat with your child, but do not pressure your child to eat.
Giving only water between meals decreases the risk of them being full when it is time for a meal or a snack. Avoid juices and sugary drinks.
Offer your child a variety of healthy options.  Offer new foods for them to try.  Start with a small amount to see if they like the new food. If they refuse it, try again at a different time.
One big concern parents is the amount their child eats.  A lot of parents at times think that their child does not eat enough.  A child normally will only eat when he/she is hungry. It is normal for a child to eat one day and not the next. A parents' job is to offer the child a variety of food. The child's job is to decide what and how much to eat. 
It is a best practice to offer children food at the table and not in front of the television.  Sitting down as a family provides structure and discourages future unhealthy snacking habits while watching television programs.
Include your children in food preparation activities to help increase their interest in foods.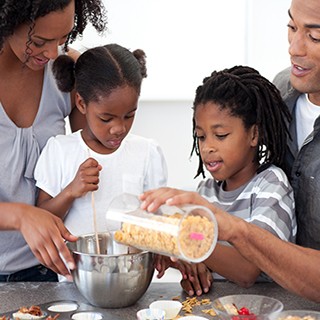 Nutrient Needs Of Children: Children need a variety of different foods.
| | | |
| --- | --- | --- |
| FOOD GROUP | 1-2 YEAR OLDS | 2-5 YEAR OLDS |
| FRUITS | 1 CUP PER DAY | 1-1/12 CUP PER DAY |
| VEGETABLES | 1 CUP PER DAY | 1-2 CUPS PER DAY |
| GRAINS | 2-3 OUNCES PER DAY | 3-5 OUNCES PER DAY |
| PROTEIN FOODS | 2 OUNCES EACH DAY | 3-5 OUNCES PER DAY |
| DAIRY | 2 CUPS EACH DAY | 2 CUPS EACH DAY |
Calories and Protein: Both calorie and protein needs increase during the childhood years.  Most important: make sure your child eats simple foods and limit "empty calorie" foods like sweets and salty snacks which provide calories without the protein, minerals and vitamins that are needed for growth.
Fat: In children over the age of three, limiting fat, saturated fat and cholesterol may reduce risks of chronic disease in the future.
Exercise: It is usually a good idea to limit screen time to less than two hours a day.  Children who watch television or play videos for longer periods of time are less active, read less and do not perform as well on tests. Try to make exercise a family activity and make it fun so that the children want to participate. Try these ideas:

 Dancing
 Biking
 Walking
 Jump rope
 Swimming
Going to the park

Malnutrition/Hunger: Approximately 13 million children in the U.S. experience hunger.  When children are hungry they are more likely to be hospitalized and are more likely to suffer from conditions like anemia and asthma. They are also more likely to have problems in school.  Programs like the WIC Program, National School Lunch Program, National School Breakfast Program and Summer Service Food Program were created to help children get the nutrition they need.
Overweight: Overweight and obesity problems can start in childhood. The number of overweight children and adolescents in the U.S. has doubled in the last two to three decades.  This is accompanied by an increased risk of chronic diseases.
Lead Toxicity: Blood lead levels are usually checked around 1-2 years of age.  Even though lead exposure has decreased dramatically, some children are still at risk.  The source of most lead poisoning in children is dust and chips from deteriorating lead paint on interior surfaces.  Lead poisoning can severely affect mental and physical development.