The term "vector" in the sense of "vector control" usually refers to an arthropod that carries an agent that causes disease.



Currently, the main focus of our surveillance includes mosquito and West Nile virus surveillance. We utilize different types of equipment including gravid traps, BG Sentinel traps, CDC light traps (in combination with dry ice), New Jersey Light Traps, treehole oviposition traps (AKA little black jars) and aspirators for resting collections. The wide variety of collection methods allows us to understand how different species of mosquitoes interact with each other in different stages of mosquito life.
According to the American Mosquito Control Association there are approximately 85 species of mosquitoes in the State of Texas, so we need to use different types of traps to capture different species of mosquitoes. We are open to the possibility of expanding this program to include surveillance of other arthropod vectors such as ticks, fleas, no-see-ums and kissing bugs in the future. Several diseases can be transmitted by mosquitoes, ticks and fleas. The health impact for some of these diseases has long been present in Texas. 
According to some laws in the Texas Health and Safety Code, vector control personnel have the power to abate nuisances without notice on County-owned property. We also have the power to treat abandoned properties for certain nuisances and take legal action against property owners who do not abate certain nuisances. Follow these links Texas Health and Safety Code, Chapter 341 and Texas Health and Safety Code, Chapter 343 to get more information about these laws.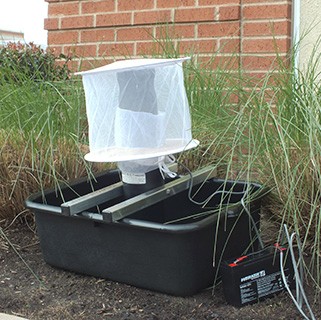 Tarrant County Public Health's phased response guidelines for West Nile virus and similar diseases are modeled after the CDCs phases response guidelines. These recommendations are intended to guide mosquito control programs and may include other applicable community procedures. All actions are subject to change without notice due to organizational priorities, weather or other unforeseen circumstances.
Follow this link to download a copy of our Tarrant County Public Health Phased Response to Mosquito Surveillance Guidelines. 
Follow this link to the Environmental Health division's Arboviral Surveillance and Mosquito Control Program policies.