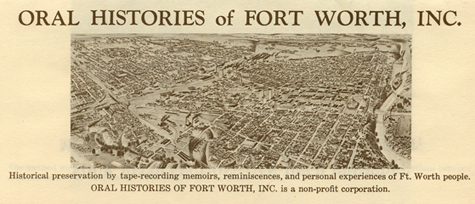 Tarrant County Archives houses several important oral history collections, including original cassette tape recordings and transcriptions.
Pre-Bicentennial Oral History Collection. Fourteen cassette tapes with no transcriptions. Interviews occurred between 1963 and 1971
Bicentennial Oral History Collection. Forty cassette tapes and transcriptions. Interviews occurred in the years 1974-1976
Oral Histories of Fort Worth. Seventy-seven cassette tapes and 59 transcriptions. Interviews occurred in 1976-1978. Donor is Oral Histories of Fort Worth, Inc. - a research project initiated by the Junior League of Fort Worth in 1976
Haslet Pioneer Families Oral History Project. Voices of the Past: Oral History of Haslet. Twelve cassette tapes currently being transcribed by Gayle W. Hanson
Oral Histories of Black Mansfield. One 77-page manuscript / transcript dated 1996.
Duane Gage Oral History Collection. Duane Gage was a longtime instructor of history at the Tarrant County College Northeast Campus. He also served as the second chair of the Tarrant County Historical Commission, and held other offices within that group as well. As an instructor, he guided his students in many living history investigations, including oral histories. The resulting student papers are on file in the Tarrant County College Heritage Room on the Northeast Campus; he donated work extensively to both the Heritage Room and the Tarrant County Archives.  
World War I Airmen in Tarrant County - Ben Guttery Collection
Ethel Mae Jordan Bliss - Susan Murrin Pritchett Collection
How to Use Oral History - follow this link to learn how to use oral history in your research.
The Civil Rights in Black and Brown Oral History Project (CRBB) - follow this link to watch oral history videos by members of the Tarrant County community. Contributors listed below:

Opal Lee
Estrus Tucker
Richard Gonzales
L. Clifford Davis
Dalila Dolenz
Betty Joyce Bivens
Arnoldo De Leon
Vivian Wells