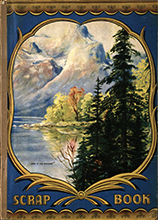 The Tarrant County Archives offers access to full scans of a growing number of scrapbooks online.
Scrapbook pages are scanned full color 'as is,' except in the case of fold-out pages. These are folded out so the item can be read. As a result of choices made by the scrapbook maker, items that overlap and are not designed for fold-out will not always be readable in the scan.

Please credit Tarrant County Archives and the corresponding collection name, listed below, when used as source material for publication.  
Dodge, Mozelle

Hoffman, Dalton

Contact the Archives