Obesity Prevention in Children
Obesity Prevention in Children
Striving for a Healthy Weight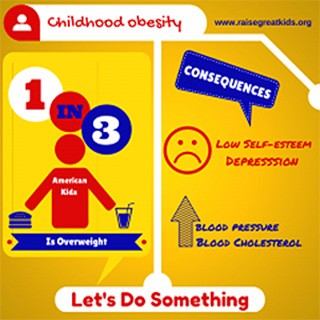 According to the World Health Organization (WHO), childhood obesity is one of the most serious public health issues of our time. Overweight and obesity occurs when we eat more calories or energy than we use doing activities.  Children who are overweight or obese have a higher chance of becoming overweight or obese adults.  

Childhood obesity puts our kids at risk for a many health problems Kids who get hooked on electronics and TV shows, tend to be less active. Less activity increases the chances of obesity and health problems.  Obesity-related problems include high blood pressure, type 2 diabetes, elevated cholesterol and heart disease. Most of these problems were only seen in adults before the increase in childhood obesity.  In out fast-paced, fast-food, technology society, it can be harder to stay active because it is so easy to grab unhealthy food on the go. 

INTERESTING FACTS:
One out of three children in the United States is overweight or obese.
One out of six children is obese.
Over the past three decades, childhood obesity rates have tripled in the U.S.
Worldwide, an estimated 43 million preschool children were overweight or obese in 2010.
Obesity is more common in boys than girls.
Overweight is defined as a BMI of 21 or a growth chart plotted at or above the 85th percentile and below the 95th percentile for children and teens of same age and sex.
Obesity is defined as a BMI at 23 or a growth chart plotted above the 95th percentile for children and teens of the same age and sex.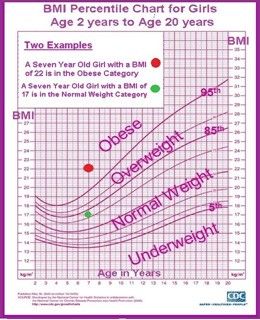 The healthy habits we teach our kids now, will last a lifetime.  What can parents do to help prevent obesity in their children?  
Offer nutritious meals with appropriate calories and fat
Control portion sizes
Include plenty of vegetables, fruits and whole-grain products
Choose lean meats, poultry, and fish
Provide low-fat or non-fat dairy products
Limit sugary drinks and increase water

Reduce sedentary time: Limit "screen time" (TV, video games, Internet) to no more than two hours a day

Do not keep high-calorie "favorite" items at home
Teach kids the benefits of being active. Among children and adolescents, physical activity can:

Improve bone health
Improve cardiorespiratory
Improve muscular fitness
Decrease body fat
Reduce depression symptoms

Encourage activity: Children and teens should participate in at least 60 minutes of moderate-intensity physical activity most days of the week. Some examples of moderate-intensity physical activity are, jumping rope, soccer, dancing, swimming biking, and playing tag.
Lead by example: Practice what you preach. To encourage kids to get moving, adults need to lead by example. We do this by staying active, eating healthy and encouraging kids to do the same.
Educate kids on proper nutrition and being active.